Innovation continues for Indeco
At Bauma 2019, the world's leading construction machinery trade fair, Indeco presented some significant developments.
After more than 40 years of designing and manufacturing hydraulic equipment, the company continues to innovate, and given the growth in mini excavator sales, it created the new HP 100 and the IRP 5 X, respectively its smallest hydraulic hammer and rotating pulveriser, capable of optimum performance even in very tight spaces.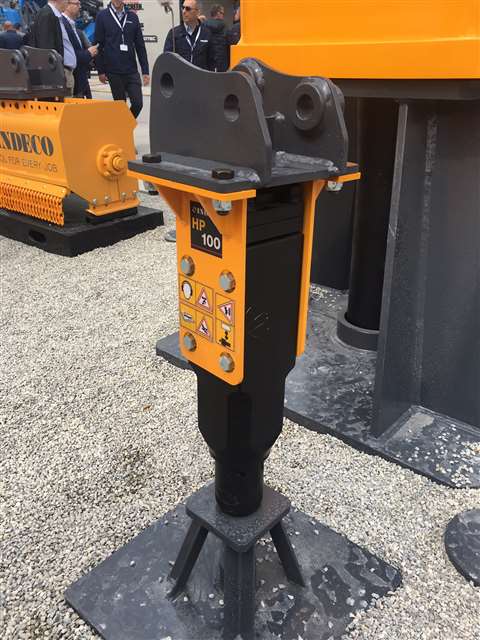 The Indeco range of small hammers is expanding with a new product, the HP 100, the smallest in the range, which is still capable of outstanding performance. The HP 100 was designed for the increasingly popular mini-excavators from 0.7 to 0.8 t, when having to use a hammer in a restricted workingarea. The challenge lay in trying to make a hammer that could work with a decidedly reduced oil flow rate - from 15 l upwards - that would maintain maximum hydraulic efficiency despite weighing under 60 kg (132 lb).
The result is the HP 100, which has a larger steel diameter than hammers in the same class and what the company calls truly remarkable impact energy per blow, which reduces demolition times and ensures high productivity levels.
Weighing just 570 kg (1,256 lb), the IRP 5X is officially Indeco's smallest rotating pulveriser, tailored for smaller carrier ranges.
The company said it is far more common for contractors to be faced with a demolition job in a restricted working area, where a constant effective force can help reduce working times and maximise productivity. The success of the operation was due in part to the hydraulic cylinders which are decidedly oversized compared to the attachment and in part to the large jaw opening.
"There are also technological upgrades on two of our major lines," said marketing manager Michele Vitulano.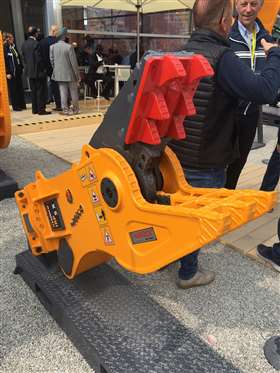 "The IMP multiprocessor has become even more efficient, with its improved design and the introduction of new interchangeable teeth in the crusher and pulveriser configurations and reversible cutter blades in the shear version. And then we've brought in a new dust abatement system for our hydraulic hammers, based on the latest OSHA (Occupational Safety and Health Administration) directives, which minimises operator exposure to microparticles of crystalline silica."