Innovation, Plant and Equipment
Winner Caterpillar
Country Switzerland/USA
Product Ultra High Demolition machines
Also shortlisted
Blastrac (Netherlands)
Dragon Equipment (United Kingdom)
ES Manufacturing (United Kingdom)
Caterpillar emerged from a diverse field of entrants to take the award for Manufacturers' Innovation in Plant and Equipment for its Ultra High Demolition machines.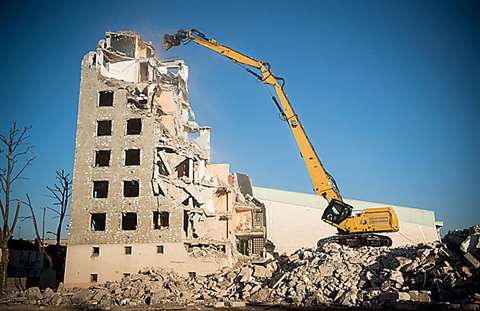 This included a 60/70 t excavator size class and what the company described as a new generation of machines with its 352 UHD.
Caterpillar described the 352 UHD as "a solution based on direct feedback from demolition customers. The key elements of the voice of the customer were to reduce fuel consumption as well as maintenance and operational costs, while at the same time improving performance."
Based on its boom coupling system, it is said to offer users the chance to switch between Ultra High Demolition and Retrofit (short) fronts in 15 minutes.
At the awards ceremony, the company's demolition product application specialist Gilles Ronnet said: "We are extremely honoured to be receiving this prestigious award. Our customers might be very diverse, but they all have something in common. They expect the best from us, and we really understand the importance of anticipating changing customer and future business needs."