Innovations at Platformers' Days
Platformers' Days 2018 was the biggest yet with a record number of exhibitors and visitors totalling more than 2,500.
The show, which took place last week in Hohenroda, Germany, was marred by an accident on Saturday, when a CTE truck mount boom buckled, while in use. Both people in the basket escaped without serious injury. Read about the incident in the accompanying article.
There were a large number of new products on show at the exhibition, particularly in the 3.5 tonne truck mount market, with new machines on show and a couple of manufacturers starting up in new product areas.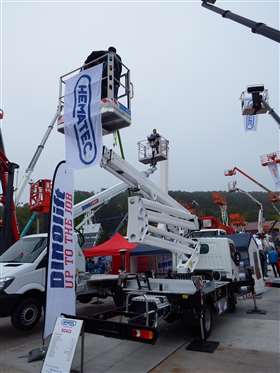 Hematec launched its first truck mount at the show. The 22.7m working height SCA23 is manufactured by Italian manufacturer Safi, combined with Hematec's electric drive system and mounted on a Nissan Cabstar.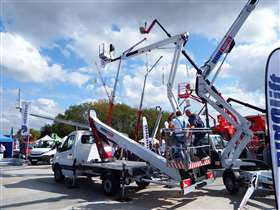 As Dino Lift's distributor in Germany and Austria, Hematec was also showing the Finland-based manufacturer's first truck mount, also with a 3.5 tonne GVW. The product was launched at Vertikal Days as prototype in the UK earlier this year.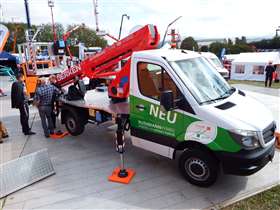 Ruthmann has developed its 3.5 tonne offering with its first hybrid truck mounts, the Ecoline 160 and 180 Hybrid models. On show was the Ecoline 180 Hybrid, part of the manufacturer's lower cost range Ecoline range, manufactured at Ruthmann Italia.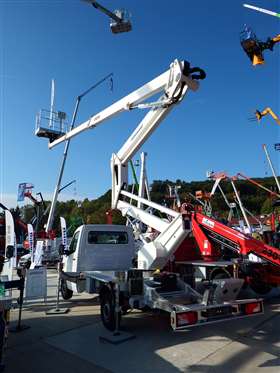 Italy-based GSR was showing its 24m working height 240PX, now with added self-levelling, which is requested in the German market. The unit is also ready for sale in another important 3.5 tonne market, the UK.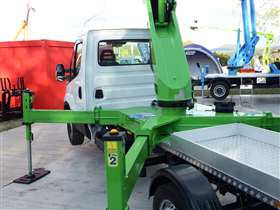 Socage has been launching its T-series over recent months, available on a 3.5 tonne chassis, with 16, 18, 20 and 23m working heights. All of them are using new light, high strength steal booms. The manufacturer announced that it will be manufacturing its first crane, a 350 tonne capacity rough terrain mobile model that will be the first in a new range. Second up will be a 600 tonne capacity unit.
Beyond the 3.5 tonne category, Palfinger launched its first electric-powered truck mount, the P 370 KS E. It combines a diesel and electric drive system. The P 370 KS E can be operated for one full working day in electric. Using an external power supply, charging can be performed on site during downtimes. The intelligent charging system with an integrated quick-charging function shortens the charging time by 25%. After one hour of charging, the platform can be operated electrically for up to one and a half hours.
Like the P 370 KS, the electrical version P 370 KS E offers a maximum basket load of 500kg, a working height of up to 37m and a lateral reach of 31.5m. Vehicle length remains compact at 8.35m.
Self-propelled
Apart from truck mounts, there were other notable developments.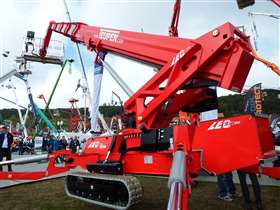 Teupen presented its new Leo 30T Plus. The new products has a 450kg capacity hook option and increased basket load to 300kg as standard, with 30m outreach. A switch on the basket can change the capacity to 400kg, with 27m outreach. The new strat/stop functions and electric emergency lowering are also features.
Falcon had its FS 330Z Vario, that it had launched at APEX, now offering 250kg in the basket, compared to the 200kg available before. Up to 15.5m outreach can be achieved with 250kg and 19m is available at 100kg. Auto-levelling is also available at all times.
Platform Basket had its latest telescopic model, the 30m working height 30T. It said it had just delivered the first unit in the UK to MBS Access, via its dealer Promax. This is the manufacturer's first telescopic model and the next step will be the 43m working height 43T. The prototype is nearly ready and will be at Bauma.
Ahern Deutschland celebrated its third anniversary at Platformers' Days 2018 with 12 machines and the first full-production Snorkel 660SJ mid-size telescopic boom in Europe and the debut of the Snorkel SR626 rough terrain telehandler to the German market.
Ahern Deutschland also used the show, which took place in Hohenroda, Germany, last week, to announce the appointment of Jürgen Müller as sales representative for Bavaria and Austria.
With a mechanical education and employment background, Müller entered the German aerial work platform sector in 2011 as a dispatcher for rental company Arbeitbühnen Stabel. He progressed to branch manager in 2014 for AVS Franken Lift, in Nürnberg, before moving into field sales and technical service for truck cranes at Schmidbauer in mid-2015.
Alongside 12 Snorkel platforms, the new Snorkel 660SJ telescopic boom lift will took centre stage on the large outdoor Ahern Deutschland stand. The CE-version of the 660SJ features a 22.3m working height with a lift capacity of up to 272kg.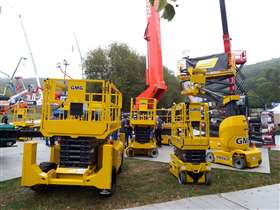 GMG, the US-based manufacturer, with full production in China, was showing it current range at the show. The latest product is the VM26-J vertical mast with AC electric drive and the 406 9RT rough terrain scissor, with a 14m working height. It has a quiet mode, in which RPM can be reduced by half, when low speed is adequate, thus reducing noise emissions.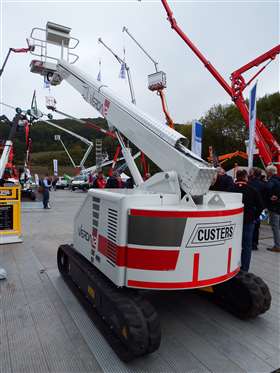 The company now has 16 models and is adding seven more in the next few months, including articulating booms over the next six weeks. During next year the company said it will have its full range, including niche products. As part of it I-Power system, the manufacturer was also demonstrating its new and unique OWS secondary guarding for scissors offering.
Custers had the new 12m working height Verrda 12 tracked boom lift, which follows the prevously-launched Verda 9. The 4.9 tonne, 12m working height model and it's smaller sibling were introduced to fill a gap in the market after Hitachi pulled its similar models out of Europe.
Almac also had a new tracked boom, with variable axles, like its unique scissor products, at the show. See the the seperate story.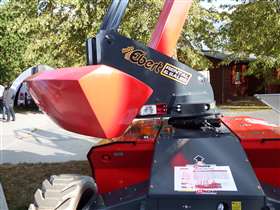 Magni was showing the first Dingli boom in Germany. It has been delivered to Stefan Ebert, Magni's dealer in Germany.