Interlocking crane mats by Outriggerpads
By Katherine Weir05 September 2016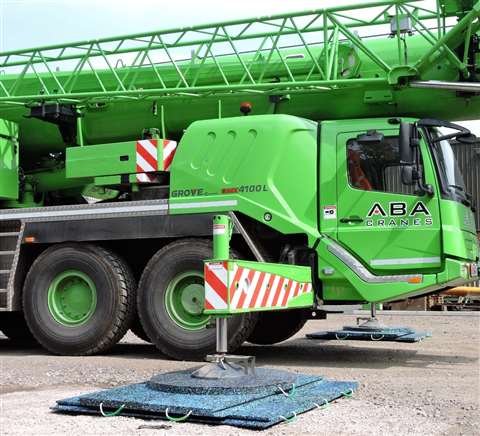 UK-based spreader plate manufacturer Outriggerpads has launched a new spreader plate for cranes that offers even more stability and a faster set up time, the company said.
The modular Multi Mat system is said to provides a flexible solution for heavy plant and crane lifting. Operators are able to stack the mats in various configurations depending on available space and load capacity requirements.
Outriggerpads has further improved the technology to now offer fully interlocking Multi Mats. The interlocking system ensures that there are no gaps between the mats, improving set up speed while keeping the system sufficiently lightweight to be set up by hand. With six configurations offering load capacities of 75 to 160 tonnes, the system is designed to support a wide range of mobile cranes.
Charles Grizzle, business development co-ordinator at Outriggerpads, said, "The original Multi Mats have been a great success for us, as they offer mobile crane operators a lot of flexibility from pads that are easily assembled.
"With the interlocking design we take the benefits one stage further by reducing the time required to check for gaps in between pads and remove and debris. We have already had international interest and recently shipped our first order to a construction company in the Middle East."
The Multi Mat system is manufactured from heavy duty ultra-high molecular weight (UHMW) polyethylene and the water and corrosion resistant pads adapt to the contours of the terrain, yet spring back to their original shape after use. They are also a lighter weight than many equivalent pads made of metal or wood and are much less susceptible to splintering, the company said.