Intermat 2009 - Construction Stop Press
By Chris Sleight15 April 2009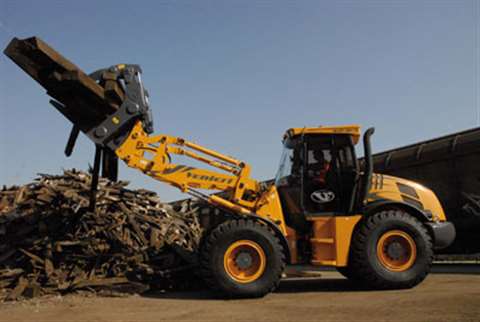 Kicking-off on April 20 and running for six days, the Intermat exhibition in Paris will be the largest get-together for the global construction equipment industry this year.
In the March edition of CE our extensive Show Guide included news of more than 200 new products and services being launched at the show, but with 1300 companies taking stands at this year's event, even this was just the tip of the iceberg.
As hard as CE tries to find out about new launches before the show, there are always lots of new machines unveiled on the first day of the event. But in addition to these there was news at the time of going to press of several interesting new machines that will be on show in Paris.
New loaders
Intermat will see VF-Venieri present its new range of wheeled loaders for the first time outside of its native Italy. Four new machines - the VF9.63B VF10.63 VF11.63 VF12.63 - replace the old VF963 and VF9015 units, while a new addition has been made at the top of the range in the shape of the VF13.63.
The five machines cover three bucket classes. The 9.63B and 10.63 are 1,7 m3 machines, with the latter having a parallel lift front end. Similarly, the 2,1 m3 11.63 and 12.63 machines are Z and parallel linkage machines respectively, while the range-topping 13.63 has a Z-bar front end and a 2,5 m3 bucket.
The top speed on all five is 42 km/h, and engine powers range from 83 kW for the two smallest machines to 107 kW for the 11.63 and 12.63 to 123 kW for the 13.63.
Also new is the cab design, which are more spacious and better laid out inside to make the operator more comfortable and also improve visibility. Standard equipment includes a nine-outlet air conditioning system and a cooled storage compartment.
Kubota's latest addition meanwhile is the 5,4 tonne KX057-4 mini excavator. Operators will appreciate the enlarged cab, which has a wider entrance and more foot space as well as being larger overall.
In terms of functionality, Kubota describes its new machine as "tool carrier," capable of working with a range of hydraulic attachments. It is equipped with two auxiliary hydraulic lines, with oil flows that can be adjusted independently via the in-cab digital control panel.
Power comes from one of Kubota's own 34 kW direct injection diesel engines, which is combined with a three-pump load-sensing hydraulic system. The machine offers a maximum digging depth of 3,9 m.
Also in the compact equipment segment, is Ditch Witch's new Zahn R300 power unit. Launched at last year's ConExpo show in the US, this 30 hp (22 kW) machine is best described as a small, articulated tool-carrier.
The machine can work with a variety of attachments including loader buckets, digging arms, dumper bodies, trenchers and vibratory lows to name a few, and these are linked up via Ditch Witch's InterChange connection.
Being articulated, the carriers are highly manoeuvrable, and the Zahn R300 is just 0,91 m wide, making it suitable for confined sites, or areas where access is restricted.
Further up the company's range, Intermat will also see Ditch Witch launch its JT3020 Mach 1 horizontal directional drill (HDD). Powered by a 110 kW engine, the unit offers 133 kN of pull-back, and is notable for its quite operation - less then 82 dB(A) at the operator's ear.
The Thwaites stand will feature seven machines, the new 1,5 tonne capacity powerswivel machine. Powered by a 16 kW engine, the unit has full hydrostatic drive, and fills a gap in the range between the existing 1 tonne and 2,3 tonne powerswivels.
Also new from Thwaites is the Micro Dumper, a 300 kg capacity walk-behind machine. The Honda petrol engine gives the 700 mm wide unit a top speed of 6 km/h.
New from Kaeser is the Mobilair 170 portable compressor, which offers free air delivery of 17 m³/min at 8.6 bar. Powered by a six-cylinder 127 kW Deutz engine, the unit weighs in a 2,7 tonnes, making it lighter than many comparable models.
A key feature is the company's Sigma Control mobile (SCm) system, which matches the engine speed to air demand. This helps to optimise fuel consumption, thanks to the electronically controlled air intake valve, and also allows pressure to be controlled to within 0,1 bar. The control panel itself features a sturdy metal cover and is shock and vibration resistant.
In the powered access sector meanwhile, Belgian company Testcentrum De Lille will show its Giraf Track GT580B, an 18 m working height platform, mounted on a tracked undercarriage. The company says the machine was developed with façade construction applications in mind, hence the high 3,8 tonne capacity, to allow plenty of workers and their tools to use it.
Attachments
In the breaker segment, Promove will be introducing the XP300 at Intermat, a 300 kg unit designed for 5 to 6 tonne excavators, which slots into the range between the existing XP250 and XP400 units. Like the larger XP400, it uses an 80 mm tool, and also has an anti-blank firing system and the all-important noise and vibration insulation that is required on this class of urban attachments.
At the other end of the scale is the company's new heavy-duty XP7000. This 6,8 tonne monster is designed for quarrying and heavy civil engineering applications, and is suitable for 60 tonne+ carriers.
Features include, anti blank-firing and automating greasing systems along with adjustable frequency and energy controls. The tie rods in the body are completely encased to extend their life, and the XP7000 is also available with a 'tunnelling kit, which includes hardened bushings and a dust protection system.
Arden Equipment will launch no less than five new attachments at Intermat, including three processors. The 1,35 tonne CU1300 is designed for 14 to 19 tonne excavators, and comes with interchangeable jaws - concrete crushers, concrete shears and scrap shears. The saw three options are available on the 3,5 tonne CU3500, which is built for 38 to 55 tonne carriers. Further up the range is the 5 tonne CU5000, for 45 to 60 tonne carriers, which comes with either concrete crusher or concrete shear jaws.
The company will also have a new scrap shear at Intermat in the shape of the 3,5 tonne AS-035R for 23 to 45 tonne excavators. With heavier carriers, to attachment can be mounted on the end of the stick, but on lighter machines it would normally replace the stick and mount directly onto the boom.
Finally, Intermat will also see the launch of Arden's BBH1300 concrete pulveriser, for 45 to 60 tonne excavators. The unit complements two existing models that between them cover the 18 to 37 tonne carrier classes.
Concrete
In the concrete sector, Cifa will be sharing exhibition space with its parent company Zoomlion. New products will include the SLA 12 ST, a mixer mounted on a semi trailer, which the company says allows high concrete payloads to be transported, while still staying within weight restrictions. The system also offers flexibility, allowing the truck/tractor unit to work with other trailer types when the mixer is not required.
The unit is available in two- or three-axle chassis variants, each of which offers stability and a low centre of gravity thanks to the swan neck connection.
Brand new in the company's placing boom range at Intermat will be the K20 L City Pump, a four-section RZ placing boom offering 20 m of reach. The two-axle chassis makes for a compact and lightweight unit, while a 70 m3/ 90 bar class pump provides pl3enty of power for urban concrete placing jobs.
Also new is the restyled K31L XZ boom, a five-section, 31 m Z-fold unit. A new lightweight design makes for more flexibility when it comes to transportation and chassis choices, while the 5,7 m minimum unfolding height is also a key feature.
New products from Zoomlion meanwhile will include the QY70V533 70 tonne truck crane and QUY70 crawler crane that were featured in last month's Show Guide.
Rock
The Hartl Powercrusher stand will include its tracked impact crusher, the PC1, and jaw crusher, the PC2, which were launched late last year.
Weighing in at 32 tonnes, the PC1 has an inlet opening of 1070 x 750 mm, and offers a maximum capacity of 250 tonnes per hour. The PC2 has similar capabilities, with a 1020 x x730 mm opening, 36 tonne operating weight and maximum throughput of 250 tonnes per hour.
According to the company, following their launch last year, several models have already been sold to satisfied customers as far a field as the Austria, Cyprus and the US.
Hazemag's stand will feature its new hard rock impact crusher, the AP-KMH 41. Designed as a secondary unit, the impactor has a maximum capacity of 110 tonnes per hour, and is well-suited to particularly abrasive materials. Hydraulic controls make adjusting the crusher settings simple, and this system also ensures the desired settings stay in place during operation.
The AP-KMH 41 is also easy to maintain, with large service doors at the front and a hinged housing at the rear that can be raised hydraulically. This allows access to the internal wear parts, while a side roller table makes it quick and easy to remove the impact bars themselves.
New from Mastenbroek is the 20/14 mid-range rock trencher for highway drainage, pipeline and cable laying work. Powered by a 164 kW Cummins diesel engine the machine features as standard a trench unit that can be offset to the left or right and a heavy duty digging chain capable of receiving various cutting tools.
A hydrostatic chain drive allows step-less adjustment to the cutting speed from 0 to 3,7 m/s, while spoil can be discharged to either side. A load control automatically balances the trencher's speed with the strength of material being cut, maximising cutting efficiency and component life.
Visit
As ever though, the best way to find out the latest news at Intermat is to visit the show yourself. It runs from 20 to 25 April at the Paris-Nord exhibition centre. More information can be found at http://www.intermat.fr/.