Intermat Innovation Awards presentation
By Richard High16 April 2012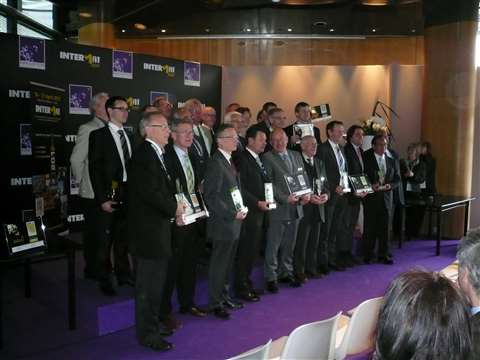 An international jury of 11 trade specialists has chosen the winners of Intermat's Innovation Awards 2012, with the presentation of the awards taking place during a special ceremony.
In the civil engineering equipment sector, the gold award winner is Volvo Construction Equipment for its On Board Weighing (OBW) system for its F series haulers.
The OBW system is available for Volvo's full suspension haulers. The system monitors the input of weight on the machine from pressure sensors and relays this information to load software integrated into the machine's electronics.
The silver award in the same category has been awarded to Fayat for Swift, which it describes as a durable, economical and ergonomic pothole repair method.
It said it had combined all the necessary functions and equipment into a specialist mobile repair unit.
Gold in the construction equipment market sector has been awarded to French firm Mills, for Tourechaf shoring tower.
Mills said that Tourechaf's innovation lay in its fewer, lighter components, and its safe and simple use. Components lock automatically to avoid disconnection while the crane is moving.
German company Vollert Anlagenbau's Iso-matic processing station has been awarded a silver in the construction equipment category. The company said Iso-matic allowed the accurate, automated processing of insulation for manufacturing sandwich walls and core-insulated concrete parts.
A bronze award went to Blastrac for its BMR-85D multi-task rider for surface preparation of large horizontal surfaces. It can be equipped with a shot blasting head or scarifying attachments, and is equipped with an onboard dust collector.
The gold award in the components, equipment and tooling sector will be presented to Arcure for Blaxtair, which it claimed was the only embedded industrial obstacle detection system which provides reliable real-time recognition of pedestrians. It recognises pedestrians through its patented image processing and shape recognition algorithms.
Silver will go to Klac Industrie for its Klac +, a quick hitch device for hydraulic excavators. It is available in a semi-automatic version for manual unlocking, or an automatic version for hydraulic unlocking.
Horton Europe will receive the bronze award for its WindMaster Revolution, a new fan specifically designed to provide a cooler airflow for modern diesel engines.
The mining and quarrying equipment gold award will go to R Brunone for its SB Spar conveyor, which uses the return belt to protect the product on the carrier belt from the weather. The return belt, which is normally positioned below the carrier belt, is twisted and brought above the carrier belt to provide cover.
The Intermat 2012 Environment Award will be presented to Imer for its Carry 105 electrical mini-dumper, which is said to be a solution for handling materials inside enclosed spaces.
About the awards
The Intermat 2012 Innovation Awards turn the spotlight on innovation in the construction and materials industries. As a showcase for international innovation, these awards recognise outstanding developments relating to equipment, techniques, services and products.
The competition is open exclusively to Intermat 2012 exhibitors. Entries must not have been exhibited at another show and will compete in 4 different categories:
civil engineering, Mining and quarrying equipment
construction equipment
components, equipment and tooling
handling equipment and services
There will three awards in each category: Gold, Silver and Bronze. The winning innovations must also demonstrate an outstanding advance in technical design and technology or in cost savings, operation, usage or environmental sustainability. They must also comply with French and European regulations and standards. A 'Special Environment Prize' for environmental innovation will also be awarded in all categories.