Intermat launches from Haulotte
Haulotte will launch a range of products at Intermat, including a surprise announcement it is holding back until the beginning of the exhibition.
Apart from focusing on the digital aspects of the business, it will have new and previously existing models around the stand at the show, which takes place 23-28 April in Paris, France.
One of the launches is the 16m working height HA16RTJ Pro rough terrain articulating boom, which adds to its new range of booms offering a number of efficiency and operator improvements.
Like the 23m working height HT23 RTJ Pro, launched last year at Bauma China, and the HA26 RTJ Pro, launched earlier this year, the 16m model will come equipped with the Activ' Lighting System and Stop Emission System and will be available on the market as early as June.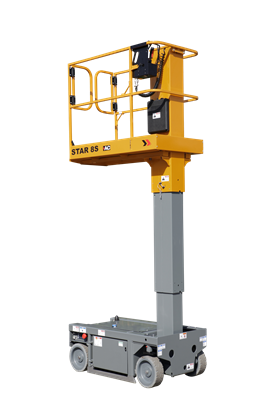 Joining the new booms is the is a new vertical mast, the 8m working height Star 8S, adding to the manufacturer's popular Star series. It will also be available in June
The Star range will also be enhanced by the addition of Haulotte's first tracked mast, the Star 6 Crawler. It has a lifting height of 6m and adds new applications to the Star's scope, including industrial and building maintenance and finishing work like plumbing, electricity, air conditioning, heating, lamp light replacement and insulation.
Features of the new crawler include high precision, smooth driving with zero turning radius and a 40cm platform extension. Ease of transport is available thanks to a dedicated fork, while the machine has direct electric drive with brushless AC motors and Activ'Screen on-board diagnostic. It will be available starting September.
Haulotte will also launch a surprise product at the show, which appears to be, from its teaser video, to be a larger articulated boom.