International debut for TA3000
The newly upgraded Terex Trucks TA300 articulated hauler will be at Bauma – the first time the machine has been displayed at an international trade show.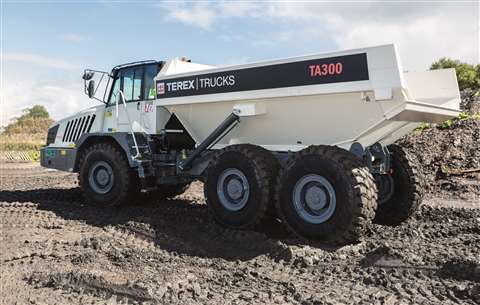 The company said the Terex Trucks team planned to show visitors how the company's two articulated haulers – the TA300 and TA400 – deliver low total cost of ownership and high productivity at jobs including large-scale construction projects, infrastructure developments and quarries.
Paul Douglas, managing director, said, "The articulated hauler is the only product Terex Trucks manufactures – so therefore we're able to focus all our attention on this machine. We are the experts in all things articulated hauler."
He said the company would also be discussing the investments and improvements it has made in its product line and its growing dealer network.
The updated version of the TA300 is said to have improvements in fuel efficiency, performance, productivity and operator comfort.
Since August, the TA300 has incorporated the new EP320 transmission, which comes with two additional forward gears – eight in total – as well as four reverse gears. This is said to help to ensure smoother gear shifting and, therefore, better operator comfort.