Interview: Aggcon MD on India's rental market
By Belinda Smart01 March 2023
Indian rental company Aggcon Equipments International is on a growth path driven by major infrastructure and mining projects across the country. Managing Director Jitender Aggarwal talks to Belinda Smart about the company's rapid growth, and his broader aim to promote the interests of India's rental sector.
Metro projects in Delhi, Mumbai, Chennai, and Bangalore, the Kochi shipyard Project, the Kalyani River Bridge Project in Kolkata, the Highspeed Rail Project in Gujarat, Noida international Airport, Goa International Airport, Mumbai Airport.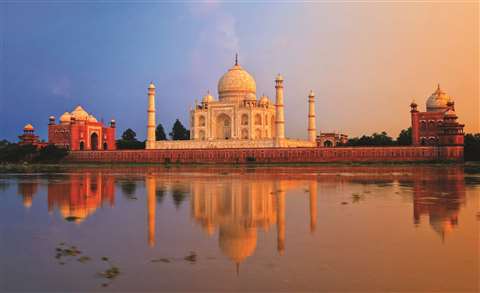 These are just a handful of some 30 major schemes across India named by Aggcon Equipments International as recent or current projects.
Driven by demand from such schemes, Aggcon, which is headquartered in Faridabad near New Delhi, has grown since its establishment in 2003 into a national force, working in 25 states of India.
And the wave the company is riding looks set to continue.
A World Bank report – 'Financing India's Urban Infrastructure Needs: Constraints to Commercial Financing and Prospects for Policy Action' - released November, estimates India needs to invest an average $55 billion (€50 billion) a year in urban infrastructure over the next 15 years to meet the needs of its growing urban population.
The growth of India's rental market
Aggcon Chairman and Managing Director Jitender Aggarwal is clear about the company's role in meeting that burgeoning demand and in particular the importance of the rental model. India's rental market can be categorised into two tiers - a localised and a national one – he tells IRN.
"Both markets have different needs, demands and clients. A localised need can be met by a small rental company, which generally has conventional equipment like backhoe loaders or small cranes.
"To cater to the infrastructure sector at national level, a rental company has to be organised and should have good fleet strength with the latest technology and specialised equipment."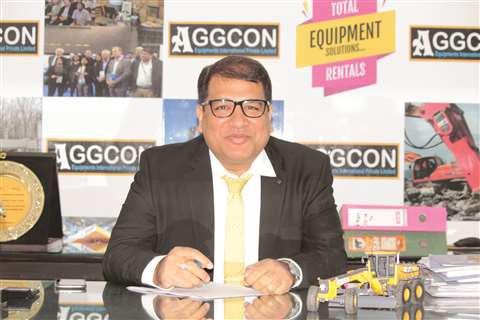 This is where Aggcon comes in. Its growing rental fleet – currently 300-strong - covers key categories including earthmoving, piling foundation, tunnelling, road construction, cranes and mining equipment, as well as specialty equipment such as piling rigs.
Global category specialist OEMs form the fleet's backbone - telehandlers from JCB and Manitou, excavators from Sany and Hyundai, rollers from Hamm and CNH, electric pavers from Vogele, wheel loaders from Caterpillar and Liugong, self-loading mixers from Carmix and pneumatic tyre rollers from Volvo CE.
"Our policy is to buy only new and latest technology equipment and we do not deal in used equipment at all," he says. "We always keep our fleet young."
That approach will roll out over the medium term; the company plans to invest Rs 500 crore (€56,400,000) in the next two years to further increase its fleet size.
Rental in India
In light of demand from major projects, Aggarwal believes the rental model is also gaining traction in India.
"India's equipment rental industry has grown steadily over the past decade and has been able to create a significant space for itself owing to increased focus of the government on infrastructure."
The country's metro projects, highways, bullet train projects, airports, smart cities, wind energy projects, oil refineries and mining activities, are driving rental demand "particularly for equipment with integrated new technologies; digitalisation for automated services, sensor-based controls, telematics for equipment tracking and mapping, and for predictive maintenance are critical in reducing downtime and boosting efficiencies."
And with state-of-the-art machines commanding ever-rising costs, rental is increasingly seen as the solution.
"Besides saving the capital for their core business activities, renting also saves contractors the cost of hiring an operator, and running, and maintaining machines."
Sustainability is another driver; India's Minister for Road Transport and Highways Shri Natin Gadkari is actively promoting the need to shift from diesel variants towards electric and ethanol based equipment.
"The Indian rental industry should therefore focus on sustainability – its economic, social, and environmental aspects in line with the goals of Global Rental Alliance (GRA). I believe rental industry leaders should come together and work on the policy for reducing their carbon footprint."
Skills and talent are a key element of sustainability, he says, and Aggcon is active in promoting operator training; it also has a policy of hiring women operators for its fleet of construction equipment.
Industry recognition
Aggarwal is proud of the company's pioneering achievements in this and other areas. Last year, Aggcon was recognised with a number of industry awards.
"We were honoured for distinguished services in infrastructure equipment rental sector by Nitin Gadkari, India's Minister of Road Transport and Highways.
It was also judged "Best Emerging Company of the Year" by The Builders' Association of India (BAI). It also received Indian trade association ASSOCHAM's MSME Excellence Recognition of Haryana Awards for 'Most Socially Responsible Company of the Year 2021-22' and 'Fair Businesses Practices company of the year 2021-22.'
Reforms of rental in India
Looking ahead, Aggarwal's ambitions for Aggcon include listing it on India's National Stock Exchange – planned for after 2025. And he also points to wider sector-level concerns.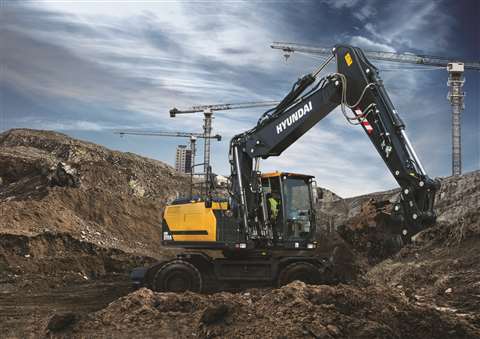 Key among these is protecting India's emerging rental industry from the rise of OEMs renting directly to customers, reported by IRN last November.
Aggarwal now reiterates those concerns; "OEMs are entering the rental business in India and competing with the rental industry is the challenge that needs to be addressed urgently," he tells IRN.
"Knowing that the rental industry is the biggest customer of construction equipment, this move of OEMs is detrimental to the rental industry."
He indicates Aggcon will continue to actively encourage debate with OEMs, encouraging them to support the long term growth of the rental sector.
"Finding a profitable balance where all stakeholders can support each other for mutual growth is needed."
"Transformation is important and our collective responsibility. The rental industry should not be seen as mere equipment buyer now. We are a serious industry and important stakeholder in the infrastructure sector."