Interview: Doka USA's plans for expansion
By Lindsey Anderson17 May 2023
For Austria-based Doka, formwork has long been the company's core focus. But in early 2023, following a three-year partnership, Doka completed its acquisition U.S.-based AT-PAC. It was a strategic move for the self-described "formwork experts" – a move that will see Doka expand not only into the scaffold side of business, but new geographic markets, as well.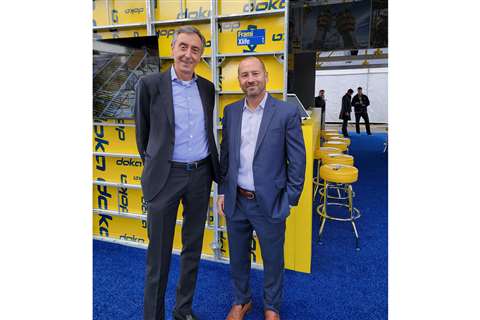 "There are three main focus points right now, two of which relate to North America," says Michael Kennedy, CEO of Doka USA. "The center of the business, the future, should be in North America – especially the U.S. Scaffolding is at the core of that; scaffolding strictly related to North America."
The AT-PAC deal with help Doka do just that. Founded in 1995, AT-PAC has six locations across the U.S. and one in Edmonton, Alberta, Canada, and one of the company's main strengths is its work within industrial scaffolding – the exact sector Doka wants to penetrate.
"The main strategic target is to have a certain position in the industrial business where Doka is completely unknown," says Paolo Zumaglini, executive vice president of Doka's North American and Latin American scaffolding divisions. "The second target is to offer customers a complete product portfolio, and, on top of that, focusing on North America."
While strengthening its formwork foothold, Doka's strategy of becoming a "one stop shop" will see its portfolio extend.
"AT-PAC is very active in the industrial space," says Kennedy. "We don't focus on that as much, and in the same breath, AT-PAC doesn't focus as much on construction. So, there is very little overlap on the customer side of business, and we feel that we can bring their products to the construction world and they can take our products into the industrial world."
Automation and the future scaffold workforce
Like most in the construction industry, Doka is no stranger when it comes to finding talent.
"This is a labor-intensive field," Kennedy says. "In our yards, we have to remove big, heavy equipment. We truck loads in and out, and finding people to fill these positions is complicated sometimes. It's getting better, but it's a challenge."
One potential way to combat the ongoing labor shortage – while also growing the business – is through innovation and technology, an area that Doka prides itself on.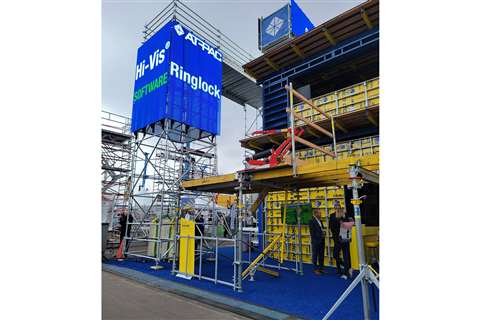 "We're always looking for innovative ways that we can use to actually help our customers work safer, more efficiently and more productively, especially with the labor situation," Kennedy says.
One such example was on display at Doka's booth during Bauma 2022, the DokaXbot. The prototype, which is a robot engineered to automatically lift, position and install formwork, is a massive step toward the automation of slab formwork construction.
With labor becoming increasingly hard to find – and expensive – Doka says the robot's reception during Bauma was "extremely positive." It is expected to become commercially available in 2024.
"Robotics and automation will be the future for some activities," Kennedy says. "We see automation in many fields, such as replacing manual work which is becoming more difficult to find people for. There are some companies that we've seen in Europe, as well, that specialize in system-mounting the scaffolding. We are exploring this also. It's a huge change for the industry."
Next steps for expansion
Looking to the future, Kennedy says the growth Doka is planning for North America "is big." The company is currently working on a number of large jobs across the U.S. and Canada, of which they preferred to keep details close to their vest.
Aside from its move into industrial and additional scaffolding, the company is discussing the potential of production facilities in North or Central America. But that's much further down the road.
For now, Doka is zeroing in on how it can leverage its AT-PAC acquisition in order to expand and build its brand in new industries.
"We're in growth mode," Kennedy says. "The market is good, robust, and we're growing and we're taking share."