Interview: Huurland CEO on growth strategy
Pascal Ameloot on customer changes, growth plans and the rental market in Belgium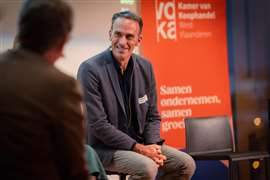 This year marks 50 years since Huurland was founded. In that time, much has changed for the company.
In 2007, CEO Pascal Ameloot, alongside his siblings Sofie and Isabelle, took over the business. Since then, it has seen a number of significant changes.
In a recent video call, Ameloot talked IRN through the evolution of the company and its plans for future growth.
Huurlands rental structure
It would perhaps be more of a surprise to suggest that a company that has been around as long as Huurland hasn't seen some form of change or evolution.
On the contrary, since taking over as CEO from his father in 2007, Ameloot has overseen plenty of development, perhaps most notably in its targeted customer base.
Ameloot tells IRN; "My father stayed loyal to the smaller customers, especially the homeowners. We had very small shops, mainly shops with one or two people in every city.
"One of the first things that we noticed (after taking over) is that that market was quite saturated. It hadn't shown any growth in the last couple of years. And then, around 15 years ago we decided to focus a lot more on contractors.
"Since then, the contractor is our focus customer and we have grown from a revenue which was 50% contractors 50% homeowners to now, where it's over 80% contractors. The homeowner is still our customer, but our marketing and sales focus is purely on the contractor."
Following the change in customer base, the company opened a new site last year that serves as its main depot for its fleet of between 400-500 units of large equipment, which mainly serves contractors.
Known as Huurland XL, the site is the 12th the company has opened in Belgium, adding to its 11 branches that focus on local presence.
Meanwhile, Huurland has also experienced significant growth in its turnover, as Ameloot reveals; "We've grown 12 to 15% every year since we took over the business. In 2007 we had around 20 to 30 employees, now we have around 90. Our turnover was around €2 million. That is now heading towards €16 million."
Future rental growth
The company, which was awarded East Flemish SME of the year in 2022, isn't resting on its laurels, and further growth has already been outlined.
And, while many rental companies in Europe have targeted new territories as part of strategies, Ameloot says the he has no plans to expand globally, instead prioritising growth in Flanders, which he expects will take 5-10 years.
He says,"I think we will need about five more depots to cover the region, and there will also be space for satellite depots along the way as we gain more coverage in the market, but with five depots, we would cover the area quite well"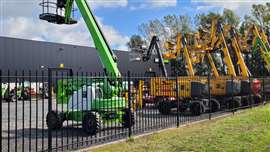 To achieve this, the company will look to acquire other businesses, something it has only done once previously when it acquired Global Rent, a small family-owned business in the Belgian town of Boortmeerbeek.
While stopping short of revealing any names, Ameloot says; "Acquisitions for us, they play a part in growing the area that we service. When we want to start in a new city, we look at green fields as well as acquisitions, both are valid growth or expansion opportunities."
Meanwhile, Ameloot reveals the company is also looking to expand and diversify its fleet, with a move into more specialised equipment on the cards; "Our growth path for the next couple of years will be to grow the fleet and to further diversify it to offer more specialised goods, things that we in the past have always been a bit wary of because it was too complicated with the multi branch strategy.
"For example, rotating telehandlers. We still don't have them because in the past we looked at them as too complex for our people to deliver to the customer, and it's a mainstream machine in the market, but for Huurland it is still a challenge and we want to evolve in that sense."
Belgian rental market saturation
In terms of the rental market in Belgium, Ameloot says that despite it being saturated with smaller rental businesses, there are still "consolidation opportunities" for the company.
In particular, he believes the company's service model is helping it to stand out in an industry in which Boels and other "national players" have entered; "I think we differentiate really strongly from the national players, and it is well appreciated by our customers."
On the state of the wider construction sector, he says that material costs and the current state of the property market in Belgium are both causing nerves among construction businesses, despite a fairly stable picture at present.
Ameloot says, "We've seen fairly large price increases on construction materials, together with higher demands in terms of energy and environmental performance of thebuildings that have been erected. So that has driven building prices up enormously.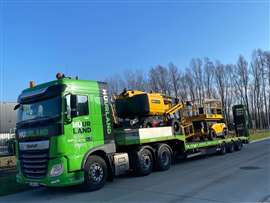 "There's a lot of anxiety about what's coming in the next couple of months. It's quite difficult as a rental company because if you're in sales, you know that if there will be less building, you will sell less building materials."
Despite some anxiety, Ameloot is more optimistic about the outlook for the rental industry and that of Huurland.
He says, "If the market is anxious, then as a rental company the operators might rent equipment instead of buying their equipment because it gives them more flexibility.
"So, maybe there will be a drop in volume, but there might also be an increase in rental versus sales of equipment.
"We are quite confident that for us as a business, we are quite diversified. We don't have large portfolios with singular customers. We are confident that business will be quite stable and continuous for the next couple of years, even if we go through a little rough water now."
Supporting Belgian rental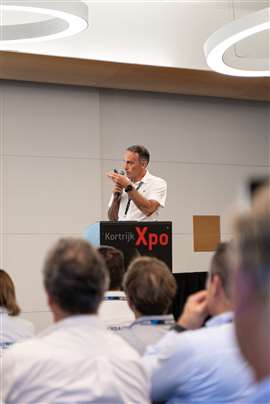 Alongside his role within Huurland, Ameloot has also recently taken up the role of secretary of newly formed association the Belgian Equipment Rental Association (BERA).
He says he was one of the "demanding parties" behind the creation as smaller companies in Belgium needed something to "give them a voice".
Ameloot says, "In Belgium, we have quite a complex political landscape, and as rental companies, we are very diversified.
"Most of the Belgian rental landscape is smaller, family-owned businesses. They often have no voice in terms of policy.
"I was really convinced that we needed to regroup all the Belgian rental companies together so that there is more exchange of information and knowledge to really create a platform from where we can really sense what are the difficulties and the challenges that they are confronted with and bring that to the policymakers."