Interview: Matt Fearon, Genie
By Euan Youdale12 May 2020
Matt Fearon, president of Genie, speaks with Euan Youdale about the ups and downs of the industry, including Covid-19, revenues, the rental market, China and MEWP design, among other topics.
Many manufacturers saw their fortunes slip in the last quarter of their most recent financial years and, until Covid-19 reared its head, the rest of the year was set to be flat at best. Genie was no exception to this rule, yet it has continued to focus on product innovation and expansion of its global footprint.
AI met with Genie president Matt Fearon at ConExpo, just as Covid-19 was taking hold in the US and no one knew how it would unfold long term, as remains the case now. Except, Genie has experience in the matter, thanks to its factory in China, which faced the same upheavals weeks in advance to countries further west and is now coming out of the crisis.
Speaking in mid-March, Fearon says, "It started with our team in China as they left for the Chinese New Year. I think they [the government] did a good job in China. A massive complex country; they shut everything down, then when they started to open it back up, there were still quarantines based on where people had travelled."
The Genie Changzhou, China, factory was in the process of ramping back up to full speed at the time of the interview and as this issue went to press it had become fully operational. "We lost the better part of the month of February; then, we were in partial production in March.
"The supply base is about on par with our factory and the time utilisation in the fleets are starting to come back and it's getting better every week. But there has definitely been an impact. The sad thing is, the Chinese market was on fire. When we left for the holidays all the talk was, 'what have we got to do to ramp up in China?'"
As the virus hit the US, Washington state, where Genie has its headquarters in Redmond, was the first to be strongly affected by its spread in the country. "We took it very seriously; we had learned a lot from our China team, how to manage it, how to communicate, and we acted quickly. A lot of it is just awareness, there is a lot we can do in just following the protocol of washing your hands. If you're sick, don't come in, and don't expose yourself to other people."
Taking control
Expanding on the subject, he added, "You can feel that we have no control. But we do have things that we can control and that is what we focus on. I think the measures that everyone is taking will have a positive impact. China is six weeks ahead of the rest of the world. They took pretty drastic measures early and we are seeing that we can get this thing to turn, and that is what we all need to do."
As previously mentioned, Terex AWPs most recent financial results saw a drop in revenues and profit, following years of robust growth. While downward curves are never welcomed, Fearon can see light at the end of the tunnel. "2017 and 2018 were very robust years; the rental companies were growing and they were adding fleet all over the world. We came into 2019 expecting it to continue to grow but it just started to slow, and then mid-to late summer, people started to get concerned about trade wars. They started talking about the uncertainty that was out there.
"Major customers' stocks were getting hit, so in the third and fourth quarter we saw a pretty big pull-back in our largest markets North America and Europe."
Following that, the company adjusted its outlook and expects the market to be slow through this year. "When we laid out our plan for the year, we didn't have a coronavirus built into it, but we did have a pause continuing into 2020."
Another factor is the US presidential election set for November this year. "In election years people are always a little bit cautious, so coming into the year we positioned our inventory for a down year coming into 2020 but not a massive drop off. Now, with the situation with coronavirus, we are just watching it develop and responding as best we can."
Nevertheless, the reduction in orders from rental companies in recent months does reflect a more rounded market, says Fearon, even if it can be frustrating in the immediate future. "It's not about the work they have for the next six months, they have to keep that fleet running. And if they start to get uncertain, they can pull back. There are leverages they can pull; they can start to dispose of more on the used market, they can cut off their capex to the OEMs.
"The good side is that the rental companies are more sophisticated about the way they are managing their fleets. That discipline leads to them not having an enormous excess of fleet out there, so, as painful as it is in the short term, for the long-term health of the industry it is good to see that kind of behaviour. Having a large amount of fleet around at one time is what drives rates down - they don't want to see that and neither do we."
It's all about the uncertainty, adds Fearon. "If you look, there's a lot of work out there but people need to feel there is not going to be global economic crisis. While people are talking about that and it's in the headlines you are going to see people be cautious."
Another cause of uncertainty in recent times has been the trade war with China and the resulting tariffs that were introduced, fundamentally for construction equipment manufacturers, on steel. While steel returned to more normal pricing during 2019, the challenge remained in the impact to Genie through the whole supply chain. "There are some pieces that you directly import, so you have clear visibility, but your supply base is also buying components so it took a while to figure what the impact was and push back on the supply base so that it stabilsed to some extent and we are still trying to find the middle ground. But the impact of that was significant and it was not good for our business."
On appeal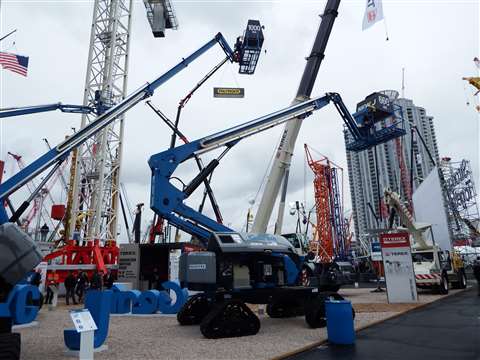 Genie S-80 J at ConExpo with TraX - the first boom in the 80-ft category to offer a tracked option.
Another issue that is hardly positive for business is the ongoing appeals process surrounding the ANSI standards. The appeals have effectively extended the effective date of the A92 standards to 1 June, after 10 companies, including Genie, had filed a petition in mid-February with the A92 secretariat to end the appeals process on the already delayed implantation date of 1 March. Originally approved in November 2018, the appeals started in in May 2019, causing the setbacks. Since the interview it has been confirmed that the standards will come into effect on 1 June.
"It's everyone's responsibility to innovate and advance the industry but it needs to be done in a coordinated way. Manufacturers have responded [to ANSI requirements] responsibly by redesigning an enormous amount of products.
"We invested in redoing technical files, retesting the machines and training materials. We were ready. Every time they move that date, we have got to think of the knock-on effect through our supply chain."
Fearon is supportive of appeal processes, but adds, "These are confusing everybody. There are other parts of our industry that have executed more complicated transitions. Look at Tier 4 engines. They gave a multi-year schedule, by horsepower; it was more complicated and it was executed."
Turning to the subject of the global business, in February last year, Terex Utilities became part of the Terex AWP business segment, which includes Genie, after Terex Corps' Demag Mobile Cranes business was sold.
"They were part of [Terex AWP] eight years ago. We are very familiar with the team, they fit really well," says Fearon.
Utilities will be left to work fairly autonomously as the customer base is different but there will be a move to share parts and services and for Genie to utilise the facilities that it already has. "We also see that there's opportunities from some of our rental partners in getting into that space."
Global view
Fearon also sees opportunity for global expansion of the insulated Utilities product outside the US, in the likes of China and Mexico. Europe is also a consideration, although it would have to be a different product.
"The one thing I love about the business is that power is pretty stable, it's not going anywhere and you need it in good times and bad times." Fearon points to the major infrastructure that will be required as the 5G network grows, as an example of where future growth will be found.
In fact, the largest capital investment at Terex Corp. is now in the Utilities business, with a major new facility being built in Watertown, South Dakota. The segment is currently spread over 11 sites, but once the new factory is built it will all be under one roof.
The global footprint for the AWP segment of Terex is ever changing too. The biggest right now is phase three in China. It consists of a new construction about 2km from the current facility, representing a major expansion that is scheduled to come on line 2021. It will include some capacity for Utilities and the Materials Processing division of Terex, but it also, of course, for MEWPs to service China, Southeast Asia and Europe.
"They have demonstrated that the quality is really good, so it's a good weapon for us. We've got a lot of competitors coming in from all over the world and we are now on an even playing field, with same costs of materials and same costs for labour. We know it's getting more and more competitive, so we are going to use our experience and the footprint that we have."
While the overall story is one of expansion, the Redmond footprint has shrunk over the last three years. And telehandler production was moved to Oklahoma City five years ago and there is still expansion capability there.
On the subject of products, Genie presented the final piece of its boom line-up this year, the form of the J-series. It complements the existing Xtra Capacity (XC) and hybrid FE series, which represents the future of its boom offering. "We feel that this is a sound strategy for giving the customer what they want, when you look at the J series, the XC and FE. We were talking about this five years ago and it has evolved in that five years, and the control systems in the machines have evolved so they can have those capabilities.
"We know from the telematics data that people are running the high capacity [of the XC], so they are going to need that, but there are other applications that are all about height." (See the Booms feature in the April-May issue of AI for more information on the J series and other Genie equipment.
In addition, the future will see Genie's expanding commitment to the FE product. "It has been out for four years, so it tried and true. It's proven itself in the market and it's a platform that can move across the products. There's a second generation of that coming out.