Investing in the future of quarrying and mining
By Andy Brown29 March 2022
Investment is – slowly – transforming the quarrying and mining sector into one with more integrated technology and sustainable equipment, writes Andy Brown.
Mining and quarrying has long been, in most aspects, ahead of construction regarding the use of new technology.
Despite this, the figure of one billion tonnes of material being hauled autonomously in one year by one company is still slightly surprising – and impressive. That's the amount of material that Caterpillar autonomous trucks using CatMineStar Command moved in a single year across 18 mine locations around the world.
It makes sense for mining to be ahead of construction when it comes to the adoption of new technology – mines have fewer moving parts than construction sites. For instance, a site in a city centre might have to deal with the public as well as having a wider range of equipment and staff from different contractors; most mines are in remote locations with fewer people and equipment types.
Autonomy in mining
Autonomous operation in mining has been around for decades, although perhaps the rate of adoption has been not as rapid as initially predicted.
"Autonomous has definitely grown, although not as fast as people anticipated. It just takes longer for mines to implement this than people had perhaps anticipated when this really started to come out 10 to 15 years ago," comments Matthew Gilewicz, senior associate and partner at The Parker Bay Company, a market research business operating in the mining industry.
He says that the reason for this is the substantial costs involved – to get economies of scale and cost savings, it has to be implemented on a larger scale. Just having a handful of autonomous trucks won't cut it. Now that a lot of mines have made this initial investment the rate of adoption is increasing.
"In the last two or three years the deliveries of new autonomous trucks have been around twice what they were in the three or four years prior to that, which is reasonable growth. What we have seen far more in the last couple of years, is the retrofiting of units," says Gilewicz.
"There were as many units converted to operate autonomously as units that shipped new autonomous-ready. This is significant as, if you're looking back at those figures historically, almost all of the new autonomous machines several years ago were new deliveries."
Autonomous hauling 
Mines are converting trucks that are up to ten years old to operate autonomously – for those that have already invested in the infrastructure and systems needed for this it makes sense, as that initial expense has already been made.
Gilewicz added that, "conversion is far easier now. It's been facilitated both by the OEMs themselves as well as some third party providers that are able to do mixed fleets, autonomous solutions across several different models from several OEMs."
It certainly seems as though the tipping point has been reached for many quarries and mines, that the initial investment has been made, and now the adoption of autonomous equipment will increase. Jagath Samaraweera, consultant for Cat MineStar Command for hauling at Caterpillar, comments that, "Since Caterpillar deployed its first six commercial autonomous trucks in 2013, the fleet has grown substantially and spans a much broader class of truck sizes, which are operating at 18 mine locations around the world.
"We recently surpassed four billion tonnes of material hauled by autonomous trucks using Cat MineStar Command for hauling. Since surpassing our one billion tonnes milestone with 150 trucks, our fleet has grown by more than 230%."
Caterpillar says that its autonomous trucks are at work on sites around the world, operating in a variety of conditions from high-altitude applications to climates with extreme temperature ranges moving different materials, including iron ore, gold, copper, coal and oil sands.
While they are operating around the world, Samaraweera reveals that, "The majority of the autonomous trucks are operating in Australia, North America and South America."
Haul assist app 
While automation is a key aspect of the technology used in mining and quarrying, there are lots of different aspects of new tech being used. For instance, Volvo Construction Equipment (Volvo CE) has a new Haul Assist app in Volvo Co-Pilot that enables on-board weighing, tyre pressure monitoring, a map, and a feature that informs the operator of current and upcoming weather conditions to help them plan work.
Monitoring tyre pressure can lead to a surprising increasing in productivity and efficiency. "Having information on tyre pressure and temperature in the cab, decreases the time it takes to carry out regular checks," says Per Trozell, product manager for articulated haulers, Volvo CE.
"This is especially important for our mining and quarrying customers who may be running their articulated haulers almost 24 hours a day. The quicker they can get the daily checks done, the quicker the machines can get back to producing and earning.

"Tyre pressure also has a significant impact on tyre service life. 10% under-inflation, for example, increases tyre wear by up to 10%. If the tyre pressure is too low, too much of the tyre's surface area touches the road, which increases friction. The increased friction can cause the tyres to overheat, which can lead to premature wear, tread separation and blowouts."
Trozell adds that, when it comes to technology and data, customers are after increased productivity, commenting that, "Customers are looking to increase ton per hour production and lower cost per ton as much as possible – and data analysis is a proven way to gain an edge."
Artificial Intelligence (AI) is another form of technology that is increasingly common throughout the sector. The more that AI is used, the more intelligent it becomes, leading to a virtuous self-fulfilling circle. "AI algorithms are embedded in mine optimisation and planning, and process optimisation software where they are replacing previous generations of mathematical models," confirms Olivier Guyot, vice president, Minerals Technology, Metso Outotec.
"AI is also embedded in the analytics solutions for pattern detection related to equipment maintenance, anomaly detection and image analysis in intelligent instruments," he adds.
Mining equipment sales
Sales of mining equipment have been strong throughout the world – since the most recent low point of Q3 2020, there has been growth every quarter. This has been driven by some countries, such as Russia and CIS nations, Australia and Indonesia. Africa has some major mines – it was recently announced that the company Zhongjian, which operates chrome oil and coal mines in Zimbabwe, had placed a large new order for SDLG mining equipment.
With commodity prices rising the company saw this as a good time to expand its business to take advantage and placed a new order with SDLG.
Zhongjian ordered wheeled loaders, crawler excavators, motor graders, road rollers and mining trucks. In order to better support the business, the SDLG service team conducted several rounds of operation and maintenance training for the product manager, and shared field typical failure cases amongst the service technicians. The equipment has been put into use on the site, which will further improve the capacity of the company in the mining industry of Zimbabwe.
How can mining be sustainable? 
Sustainability is something that is important in all mines around the world, from those in Zimbabwe to Australia and North America. Different countries have different emissions regulations, so some mines are being operated 'cleaner' than others but, says Parker Bay's Gilewicz, it is something that all in the industry are looking to address.
"I think it is something that the sector is taking seriously, but it's a difficult thing to tackle," he says. "There's much investment that will start to pay dividends from an environmental standpoint in several years, but a lot of that is difficult for them to directly implement and have much impact today."
Metso Outotec's Guyot comments that increasing sustainability is a very real focus for all of those involved in the sector, saying, "In mining and minerals, sustainability has moved up to the top of the agenda in just a few years.
"The mining industry is the provider of the metals that are needed for the electrification and decarbonisation of the world. We have therefore a central role and the responsibility to support this global transition towards carbon neutrality. At the same time, the minerals industry needs to decarbonise itself. For processing of minerals this involves the use of more energy efficient crushing and grinding equipment as well as increased use of electricity from renewable sources instead of fossil fuels."
At MINExpo in September 2021 in Las Vegas, US, Komatsu showed its initial concept for a haulage vehicle that can run on a variety of power sources as part of its power agnostic development drive for increased sustainability and a reduction in carbon emissions.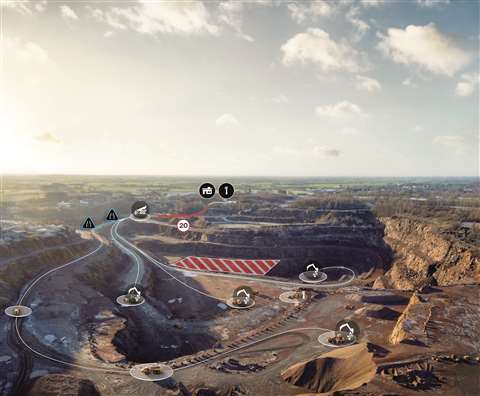 Komatsu and several of its customers recently formed the Komatsu Greenhouse Gas (GHG) Alliance. The founding members of the alliance are Rio Tinto, BHP, Codelco and Boliden.
The alliance will actively collaborate on product planning, development, testing and deployment of the next generation of zero-emission mining equipment and infrastructure. The alliance's initial target is advancing Komatsu's power agnostic truck concept for a haulage vehicle that can run on a variety of power sources including diesel electric, electric, trolley (wired), battery power and even hydrogen fuel cells.
Masayuki Moriyama, president of Komatsu's Mining Business Division, said, "We look forward to close collaboration with these industry leaders to accelerate development and deployment of the next level of equipment designed to reduce greenhouse gases from mining operations and ultimately achieve the goal of zero-emission mining."
Carbon footprint of mining 
Caterpillar's Samaraweera adds that, "Large mining truck diesel emissions can constitute a significant amount of a mine site's greenhouse gas emissions (30-50%), which is why the first focus for many customers is on implementation of zero emissions trucks. The energy transition creates great opportunities for our mining customers and Caterpillar."
There are many OEMs that have full battery electric equipment that can be operated in an economically viable way underground in mines. These machines are often smaller than those on the surface and aren't used continuously, thus giving them time to recharge.
Electric powered trucks could be one way for the industry to cut back on emissions but both the sheer size of these machines (and thus the size of the battery that would be needed) to power them, and the fact they often work continuously, are real barriers.
For the final word we turn to Parker Bay's Gilewicz who says that, at the moment, it is difficult to see a mining truck being run on electric power without a trolley assist, where an electric drive mining truck makes use of external power during a certain section of the haul road. He says, "There has been an increase in the use of trolley assist and a lot of investment going on in trying to get these technologies to the point where they are viable options at size and scale."
Whatever the future holds making the initial investment is the hardest part – the sector will be transformed in the future due to the money that has already been spent and the time and resources that has been invested.
Remote-controlled solution
Brokk has launched its Pedestal Boom, a compact, stationary breaker boom system for the mining and aggregates industry. The new machine range allows producers to apply the power and precision of Brokk's demolition robots to primary breaking tasks that feed mobile crushers, jaw crushers, gyratory crushers and grizzlies.
The Brokk Pedestal Boom uses the company's three-part arm system with 360-degree slewing for maximum versatility in underground applications. The unit can be operated with either the tethered remote or from a control room.
Depending on network configuration the machine can be manoeuvred from 2000m away or longer, using video monitoring and operation to increase safety and efficiency. At the same time, the Brokk Pedestal Booms feature a rugged design and compact footprint.
Smart surface drill
The first Epiroc SmartROC T40 smart surface drill has been purchased and used in Colombia where, according to Epiroc, it brings a new level of safety for operators, reduces fuel consumption, and offers greater control over particulate material.  
The Cementos Argos Mulaló Calera Planta quarry is located in the municipality of Yumbo in the Cauca Valley. This site is home to an exploration operation that moves around 13,200 tons of material per day, and drilling is a key process where there are always new opportunities to innovate.
"It's a very modern rig that the company acquired in search of efficiency and versatility. With this SmartROC T40, we're going to ensure better blasting granulometry, avoid deviations in drill holes, and give peace of mind when blasting close to the community," said engineer Rodrigo Salcedo, quarry manager, Yumbo Plant.  
The main feature of this rig is the advanced global geopositioning system. This allows the whole drilling process to be optimised and the quality of holes to be improved with much more accurate depths, delivering better cuts for bench drills. 
The SmartROC features an Auto Rod Handling System that allows rods to be added automatically until the defined depth is reached. This solution reduces drilling times and has a direct effect on productivity and the service life of drilling tools. 
Czech quarry teams up with Doosan
Granita Lomy owns and operates six quarries in the Czech Republic using a fleet of 11 Doosan machines across the quarries.
The company bought its first Doosan machines in 2019: a large Doosan DL550-5 wheeled loader and a DX380LC-5 crawler excavator. The excavator serves as a hydraulic hammer carrier and its task is to prepare large pieces of stone for loading using the wheeled loader.
Both machines work in the company's quarry in Chvaletice where the main type of stone is medium-grained biotite granite. Quarrying is carried out by blasting the rock followed by subsequent processing of the stone.
Last year, Granita added another DX380LC-5 excavator and a larger Doosan DX490LC-5 50 tonne excavator. Large wheeled loaders work in tandem with the excavators, including the DL550-5, which is the second largest model in the Doosan range, with an operating weight of over 30 tonnes and a maximum bucket volume of more than 5m3.