IPAF Summit lays down industry challenges
By Euan Youdale02 April 2013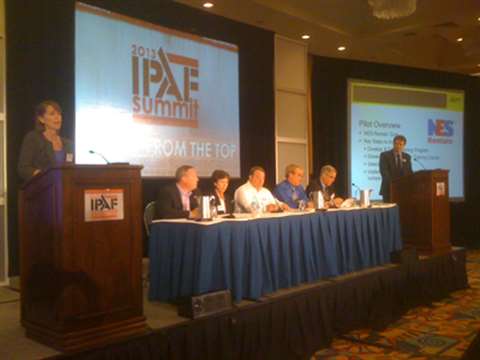 The first IPAF Summit to be held in the US has been hailed a great success, following an outstanding set of talks and seminars.
More than 350 industry professionals gathered in Miami on 26 March for the conference.
They were treated to an impressive panel of speakers who shared their expertise at the Miami Downtown Hotel. The dominant themes during the conference were safety and training, with a number of the speakers calling for changes in the industry, particularly in the US.
In his remarkable keynote speech Ron DeFeo, chairman and CEO of Terex, urged the audience to find something in their organisations that could be improved. "Make a commitment to an outcome that is better tomorrow than it is today," He said. "But you have to measure it, and then manage it, before you can secure that outcome."
The Summit started earlier than usual, at 10:00, with breakout seminars, covering a range of topics related to aerial work platforms and mast climbing work platforms, including inspections and maintenance, accident reporting and safety training.

The main conference followed in the afternoon. Among the speakers was Tim Whiteman, CEO of the International Powered Access Federation (IPAF), with a summary of the association's annual research on the state of the international powered access sector.
Andy Studdert, CEO of NES Rentals, based in the US, talked about training in the country. He reffered to the fact that out of 460000 PAL cards issued worldwide, just 3000 of them were issued in the United States, "Clearly, we are doing something wrong," he commented.
Tim Hatch, vice president of global engineering at JLG Industries, also took to the stage, as did Jordan Barab, OSHA's deputy assistant secretary of labor for occupational safety and health. The final two speakers were Michael Kneeland, president of United Rentals, and Sérgio Kariya, director of Mills Estruturas e Serviços de Engenharia, based in Brazil.

This was the first time the IPAF Summit had been held in the US. Speaking at the event, Mr Whiteman said he was delighted with the way it had turned out. "It's great that so many people are joining us here today for the US's first IPAF Summit and IAPA awards. I think it demonstrates how important an international event like this is for the industry, which is one of the reasons why we have attracted such an impressive line-up of speakers."