IPAF Summit speakers announced
By Euan Youdale14 January 2019
Speakers for this year's IPAF Summit have been announced.
The IPAF Summit takes place in Dubai, UAE, on Wednesday 6 March, on the same day as the International Awards for Powered Access (IAPAs). It is the first time it has been staged in the Middle East.
Those within to attend the IAPAs should book their place soon.The reduced early bird rate is available to the end of January.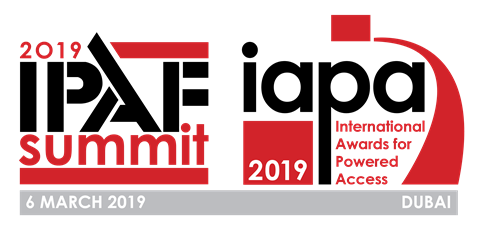 Attendance is free for the IPAF Summit, which brings together senior representatives from across the access community to discuss and debate the latest developments in our industry. Delegates should register at www.iapa-summit.info/booking
Delegates to the IPAF Summit, can also book a place at the networking reception, planned for the 5th and the site visit on the 7th to the Manlift depot in Dubai.
THIS YEAR'S SPEAKERS INCLUDE:
Matt Fearon – Genie president, Terex AWP
Jim Colvin – CEO of Serious Labs
Peter Schrader – MD & COO of German rental giant Zeppelin Rental
Erhan Acar - general manager of Rent Rise from Turkey
Richard Whiting – IPAF UK GM
Andrew Delahunt – IPAF Director Technical & Safety
Giles Councell – IPAF Director of Operations
Murray Pollok – Managing Editor of Access International
A break out session on MCWPs will be led by Angel Ibanez and Romina Vanzi of IPAF.
More speakers are being finalised, including a panel of regional, UAE-based rental experts.
IAPA awards
More than 100 entries have been received for the (IAPA) 2019.
The IAPAs are the most prestigious awards in our industry and an independent judging panel of access industry experts, with longstanding international experience, will vote to determine the shortlist and winners. See the awards website for details on this year's judging panel.
There are 13 award categories, ranging from new products and innovations to safety and training, including the new Digital Development Award, designed to recognise a significant innovation in the use of digital technology. Together, they celebrate best practice and excellence in the access industry.
The IAPAs dinner regularly attracts audiences of around 450 and is a joint venture between Access International and IPAF. The organisers would like to thank all those who have sent in entries - it has been a fantastic response - and the judges for their efforts to come in deciding the shortlist at a meeting scheduled for mid-January. The shortlist will be published soon after, with the winners announced on the night of the awards ceremony.