IRC 2018 opens with positive rental outlook
By Murray Pollok26 November 2018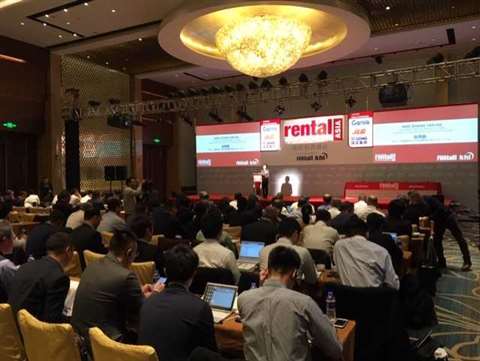 The explosive growth of China's aerial platform rental market has been replaced by "steady and healthy" expansion, said Mrs Mrs Zhang Yan Na, President of the rental branch of the China Construction Industry Association (CCIA), speaking at the sixth International Rental Conference (IRC) in Shanghai.
Mrs Zhang, who opened the IRC conference on 26 November, said the slowdown in 2017 and this year showed that "the market had turned more rational and the industry's development had become more steady and healthy… However, its total capacity is well below demand posed by the real number of projects. Therefore, the next five years still offer huge potential for development in the industry and the forecast is extremely positive."
More than 450 delegates gathered in Shanghai for the sixth IRC conference on the day before Bauma China. The event is organised by KHL Group and International Rental News.
Mrs Zhang added that average growth rates for rental in areas outside Shanghai is currently around 25%, compared to 13% in Shanghai. The fastest growing region was Beijing, up by 37%."
Giving the morning keynote address, Pierre Boels, CEO of Boels Rental and President of the European Rental Association (ERA), told delegates that understanding cultural differences is a key requirement to international growth. "It is vital to understand basic manners and how people interact in different settings."
The company has a €600 million annual turnover and 110,000 customers across Europe, and aims to double its revenue every five years. Mr Boels explained how the company started 40 years ago as a generalist but has now become a specialist provider through locations offering specific products types. It has achieved this through acquiring specialist rental companies and upscaling their specific knowledge to the rest of the group.
The future will see the Internet of Things and big data becoming key components of equipment rental. "The internet connects not just people but equipment and machines. It will provide a whole range of time-saving and cost-saving inititiatives.
"We can analyse the behaviour of our customers; we can then identify potential customers and provide new services."
On the subject of the sharing economy, Mr Boels said the concept of sharing had become more common in the rental industry, a trend that will continue. "Sustainability has become a political agenda over the years, and the sharing economy can help reduce the carbon footprint. It will be very beneficial to our sector."
The conference continues through the day. Look out for more reports on www.khl.com