IRC conference focuses on profitable rental
By Murray Pollok25 November 2020
The eighth International Rental Conference (IRC) went ahead as a physical event on 23 November in Shanghai, China, attended by more than 250 mainly Chinese delegates.
The attendees heard from eight speakers in-person plus two pre-recorded video presentations from Peter Douglas, CEO of IPAF, and Ken McDougall, President of Skyjack. The conference was organised by KHL Group and International Rental News (IRN) magazine.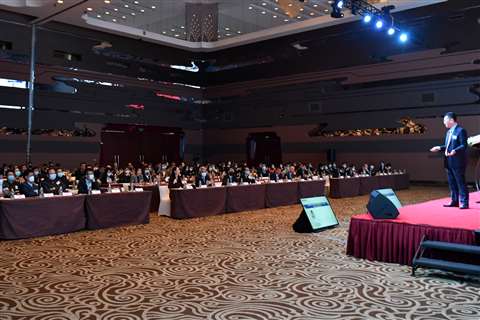 Keynote speaker Tei Gyomei, Managing Director of Hitachi CM (Shanghai), focused on the need to have appropriate levels of rental rates to ensure profitability, citing the case of North America where a stable market enables good market returns.
The challenge for Chinese rental companies, he said, was to manage debts and customer credit-worthiness, in contrast to more mature western markets where the focus is on customer services.
Chai Zhao Yi, Managing Director of Shanghai Pangyuan - the largest tower crane company in the world with more than 8,000 cranes – reported on the impact that Covid-19 had had on its operations. Crane utilisation had declined to under 15% in February 2020 but had rebounded to more than 80% by September.
He warned of the dangers of falling rental prices, and well as price competition among crane manufacturers, which meant that the entire supply chain was increasing its exposure to risk.
Peter Douglas, IPAF CEO, drew on his experience of managing rental companies to review how companies can manage growth effectively, and in particular how to make successful acquisitions.
"Do you leave them as a stand-alone businesses – they may have a brand that is supported and liked by customers – or you may want to integrate them into your business? If you do want to integrate, my advice is communicate it and do it quickly", said Douglas.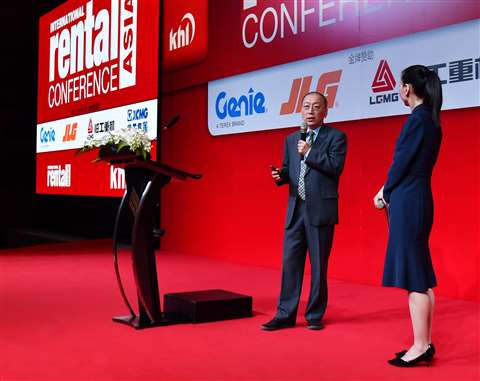 SHI Yang, Director of Research at Off-Highway Research, reported that Chinese government stimulus measures were have a major impact on construction equipment sales this year, but that an adjustment is expected when the economy has recovered. He added that the market was continuing to see a rise in the demand for excavators and compact equipment.
He said the earthmoving equipment rental market remained highly fragmented, with fierce competition; "Machine prices are falling, with squeezed margins for the manufacturers, despite the growth in their sales."
Meanwhile, Susan Xu, General Manager and Founder of aerial platform manufacturer Sinoboom, reported on the projected growth of the access rental market in China.
She said that by 2025 China could overtake North America as the largest access market in the world, with 203,000 unit sales, which would represent a significant portion of the global market of more than 420,000 units per year.
Ms Xu said the growth drivers were a strong investment climate, construction demands, safety legislation and access to finance capital.
Skyjack president Ken McDougall, also speaking via video presentation, said; "We've had our eye on the Chinese market for some time now and have seen a shift, similar to what we experienced in North America during the 1990's, towards greater acceptance in construction rental.
"As a country known for their dealer networks and owned construction products, this shift, while small, provides a noticeable opportunity for rental companies to take hold in China."
Next year's IRC, which it is hoped will return to the more international format of the previous events, is scheduled for Monday 25 October, 2021, in Shanghai, the day before the APEX Asia and CeMAT Asia exhibitions.
IRN would like to thank Mr SHI Yang of Off-Highway Research for his help in compiling this report.