IRC conference presentations now available
By Thomas Allen30 October 2019
Following a successful International Rental Conference in Shanghai, China, last week, which was attended by more than 450 delegates, the speaker presentations are now available to download from the IRN website.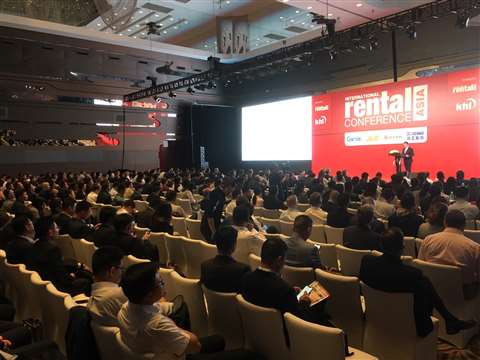 The speakers covered topics ranging from how to foster a good culture within a rental company and the growing earthmoving rental sector in China to the digital transformation of the industry and lessons from South Korea's access rental market.
The presentations that can be downloaded are as follows:
MORNING KEYNOTE: Creating a winning culture in a rental business - Angus Kennard, CEO, Kennards Hire
AFTERNOON KEYNOTE: Learning from South Korea's access rental market - Yoonkee Eom, CEO, Korea Rental Corp
Equipment financing in a growth market: choices for rental companies - Harry Pei, Finance Director - APAC, JLG Industries
Earthmoving rental in China: strategies and opportunities - Tei Gyomei, Managing Director, Hitachi Construction Machinery (Shanghai)
New market research on China's powered access market - SHI Yang, Director of Research, Off-Highway Research
Case study: transforming a rental business with digital technology - Stefan Ponea, Founder & CEO, Industrial Access (TVH Group)
Innovation and the market of the future - David Chen, Deputy president, Sales Region - China and a member of global sales management in Volvo CE
Managing big rental projects: case studies from HK & Macau - Thomas Lau, CEO, AP Rentals
Telehandlers: product evolution, applications and opportunity - Laurent Bonnaure, Executive Vice President, Global Sales & Marketing, Manitou Group
A review of the global rental market - Murray Pollok, Managing Editor, International Rental News
A full report of the IRC Conference will be available in the combined November-December issue of International Rental News.