IRE 2023: what equipment will be on show?
By Lewis Tyler17 April 2023
What can you expect to see at the International Rental Exhibition (IRE) in Maastricht, The Netherlands, on 6 to 8 June. Lewis Tyler, Deputy Editor of IRN, reports.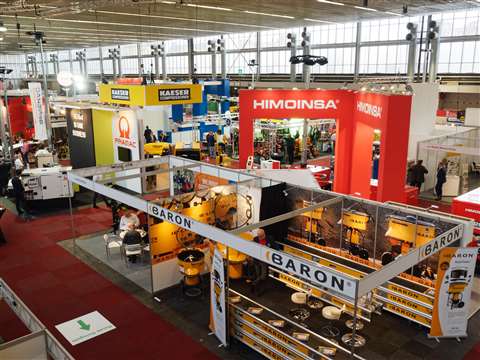 Since the last edition of the International Rental Exhibition (IRE), it would be an understatement to say that plenty of innovation has taken place among manufacturers, driven by the demand for compact equipment, alternative power and environmentally friendly solutions.
The show will bring an array of those OEMs together under one roof to display just some of the latest launches and developments in construction equipment and technology, as well as aerial platforms through the APEX show, which is being held in conjunction with IRE.
With a wide range of equipment on show - more than 200 companies combined are exhibiting at IRE and APEX - here is a preview of what visitors can expect to see at IRE 2023.
Earthmoving equipment
The role of sustainability and low-emission equipment has continued to increase in recent years, and that theme will be highlighted at IRE as Sany will show the electrically driven SY19E mini excavator.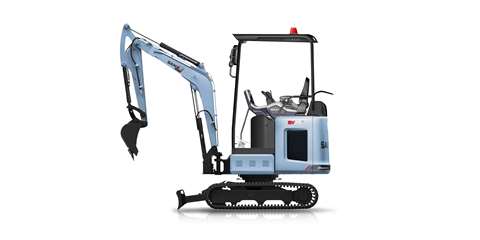 The machine, which the company says delivers zero pollutant emissions and significantly lower noise levels, comes with an electric motor that delivers a peak output of 15kW and an accumulator pack that lasts for an entire working day on one battery charge.
Charging the machine is made possible with a fast-charging station via DC in 1.5 hours, at a public AC charging station in 2.5 hours or overnight at a 220V socket.
Case Construction will highlight its CX15 EV 1.3 tonne mini excavator. Powered by a 16kW electric motor, the machine features retractable tracks that reduces machine width to 790mm and a load-sensing hydraulic system that is said to allow the operator to dial the machine into each task.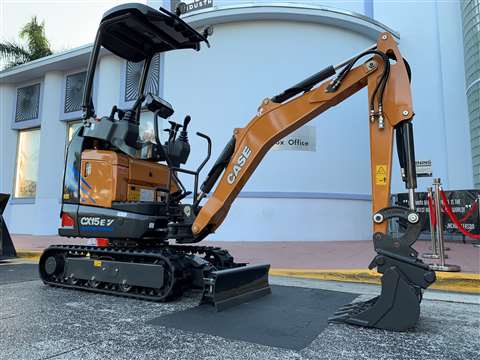 The 21.5kWh lithium-ion battery is charged either by the 110V/220V on-board charger or via an external rapid charger that can fully charge the machine in 90 minutes and can last up to an entire working day depending on the work, while its minimum swing radius design is said to make working close to structures and obstacles easier.
From its range of electric and low-emission machines, Yanmar will display several future-ready machines at IRE.
First up is the SV17e electric mini excavator prototype. Designed for the 1.5 to 2.0 tonnes segment, the unit is powered by an all-electric drive and has an open-centre hydraulic system with load-sensing hydraulic pump.
The SV17e delivers 23.5kWh gross electric power, while its 48V air-cooled motors provides "impressive digging, lifting and carrying capabilities," according to Yanmar.
Another Yanmar prototype on show will be the V8e electric compact wheel loader with 40kWh battery capacity, hydrostatic drive and high-lifting capabilities.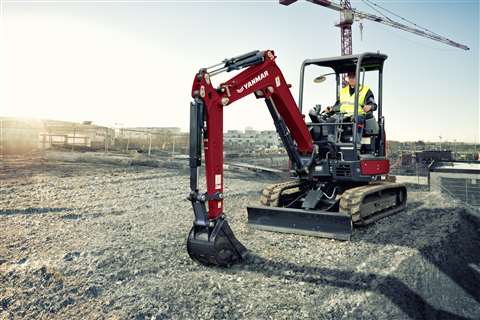 The machine has an 800l loading bucket, 11kW charging in standard configuration and 22kW in optional fast charging.
Joining the SV17e and V8e is the C08e tracked carrier and ViO33 zero tail swing excavator.
With an 11.5kWh battery and a power capacity of 24V, Yanmar says the compact C08e has the "ultimate power and manoeuvrability to excel in tight spaces," while the ViO33 is said to offer "true zero tail swing" and an "ultra-quiet and efficient engine" designed with low emissions in mind.
Launched in 2020, the eDingo 500 electric compact utility loader from Toro will make its European tradeshow debut at IRE having undergone several upgrades over the last three year's.
An electric version of the Dingo 323, the machine produces zero engine-exhaust emissions and less noise thanks to its HyperCell Power System, a new lithium-ion battery system developed by Toro.
On its stand, Tobrocco Giant will show its latest line of electric loaders with the G2700E X-TRA, which is an electrically driven version of the powerful G2700 diesel series, and the G2200E X-TRA.
Both loaders are equipped with an 48V LPT-battery and have a pulling force of 12.500N. Optionally the battery can be charged at a car charging station. Said to be ideal for rental, the machine is described by the company as compact and easyily transportable. 
Elsewhere on its stand, the company will show its GP1950E electric vibratory plate and the GR740E vibratory rammer.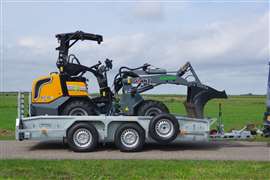 JCB will show its latest innovations in zero-emissions technology and demonstrate its role in the move towards a cleaner, low-emission future for construction and rental equipment with its growing range of JCB E-TECH electric machinery.
The JCB 19C-1E - the world's first electric mini excavator will take centre stage, the company say.
The machine is said to produce zero exhaust emissions at point of use and is "considerably quieter" than a standard machine.
Four lithium-ion batteries provide 20kWh of energy storage – enough for full working shift for many mini excavator customers on a single charge.
Also new will be a 2 tonne capacity E2000 electric site dumper from HG Machines in Denmark. This machine follows on from the ultra-compact 1 tonne capacity machines launched by the company in 2016. See more on this machine here.
Construction technology
The newly launched Archy rental platform from Gorman-Rupp Europe will be officially launched into the international market at IRE.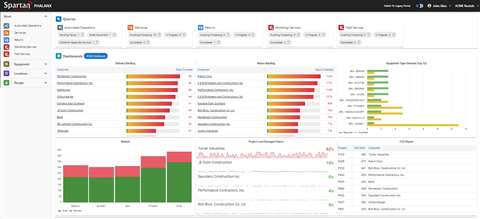 The platform aims to deliver "faster, easier and more reliable" pump rental by using a 10-step pump selector that can advise which pump is needed for specific projects.
It then suggests which pump will be ideal for the user and details how to reserve, rent and manage the pumps as well as all the rental pricing.
Gorman-Rupp say 100s of pumps will be available on the tool, including booster pumps, centrifugal pumps, diaphragm pumps, high pressure centrifugal pumps, pump hoses and submersible pumps.
Another new launch on show at IRE will be the Task Manager web application from Volvo CE. The worksite management tool, which is currently available in the North American market, is designed to connect people, machines and projects to ensure activities are delivered "on target, on time and to budget," according to Volvo CE.
Swepac will show a line-up of reversible plates it is launching as part of its Battery One concept range.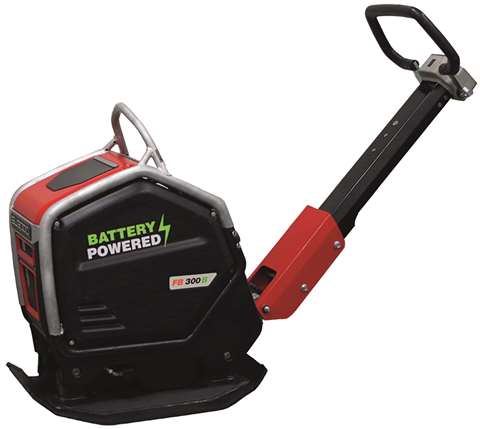 The FB200B has a 4.6kWh onboard battery, 3.0kW IPM synchronous motor, 550mm wide base plate, while the larger FB300B has a 6.6kWh onboard battery, 10.0kW IPM synchronous motor and 600mm wide base plate.
The large onboard batteries enable them to reach sufficient running time without re-charging.
Users can monitor the progress of projects, set targets, track material on sites and manage data from mixed fleets in real-time. The data collected by Task Manager is then made accessible via mobile or laptop.
Spartan Solutions will debut its PHALANX V6 software platform that aims to streamline the process of equipment rental operations.
The platform utilises artificial intelligence (AI), expert rules and statistical algorithms to identify patterns and trends in equipment's telematics and operations data. This data includes information about the performance, operation, maintenance, and usage of a machine.
Once the data is collected, the AI engine can detect any abnormalities or issues.
Lighting towers and gensets
Launched at Bauma 2022, the HBOX+ Hybrid lighting tower will be presented by Himoinsa.
The tower combines a battery-powered system and Stage V diesel engine that is said to reduce noise and carbon footprint while keeping the 120,000-lumen light capacity of its diesel counterpart.
The HBOX+ Hybrid includes LFP batteries (Lithium Phosphate) that have been designed for a lifetime of 6000 cycles, while also offering four different working modes.
The HBOX+ Hybrid incorporates 4 x 350W LED spotlights and an LED Dimming Control which means the tower can start-up with dimming.
Himoinsa will also demonstrate the 45/60 model (60kW/h) of its EHR battery-powered generator which comes with its HICORE System.
Described as a compact, clean product, the generator can operate as a single source of power generation for as a recharging station for electrical construction machinery, as well as allowing integration with gas and diesel generator sets.
Vistors to the Briggs & Stratton stand will be able to see its newest Vanguard battery products and engine solutions.
The products on display include the Vanguard Si 1.5kWh Swappable Battery and the new Vanguard 400 EFI /ETC Single Cylinder (pictured).
The company says it developed the cylinder by working with OEMs to provide a "tailored power solution, that caters to each OEM's specific requirements within the rental market."
Generac Mobile will display the VT-Solar, a generator-free lighting tower with three solar panels that can recharge its built-in battery pack.
The tower is available in two versions, a manual-mast and hydraulic-mast version, which comes with higher battery capacity, powerful solar panels (400W each) and four LED floodlights with adjustable light power.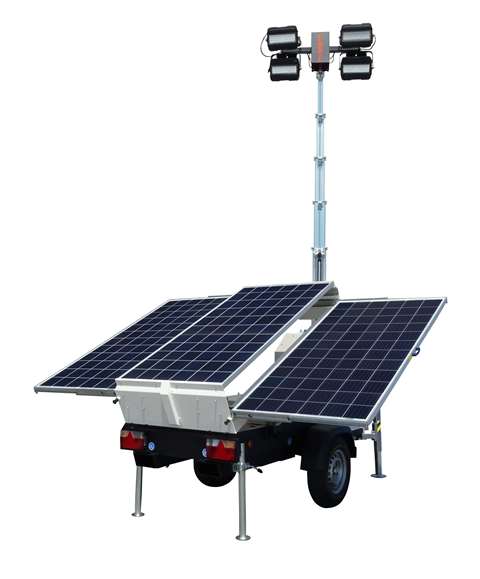 Exhibiting alongside Generac Mobile, Pramac will display its GRW Hybrid generator, which it describes as an efficient, reliable unit that reduces operational expenditure, with a choice of available operating modes that allow the correct selection according to site specifications.
Trime will present the X-SOLAR 4x60W LED lighting tower fitted with four 60W LED lamps.
The company says it is built to be robust, with galvanised metal works, and powder coating finish.
The zero-emission tower also has optional features, including a telemetry system for remote location and operational monitoring, an automatic start-up PIR operation, and dimmable lighting.
Elsehwere, ItalTower will exhibit its Street Solar lighting tower that it launched last year.
The tower with a 60W solar panel produces 6,000 lumens and has a lithium battery pack with a capacity of 14.8V.
Paclite will display its concept edging trowel, the M600.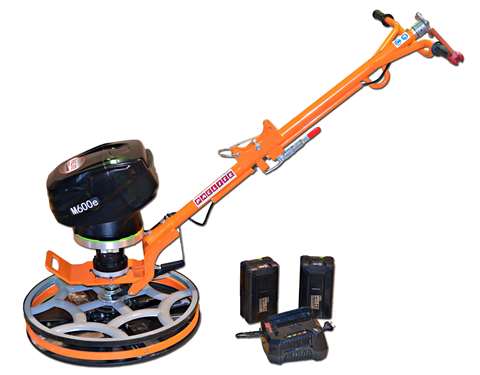 Powered by a Vanguard engine, the new concept 600mm machine has been developed together with Cramo Sweden and is said to be ideal for rental due to its ABS fly wheel, which ensures concrete does not stick to the trowel.
Paclite says it will launch new versions of the M900 and M600 later this year, powered by a long-lasting battery-charger & motor.
Taking place from 6-8 June, IRE will be held at the MECC centre in Maastricht, the Netherlands, alongside APEX, the European Rental Association's (ERA) annual Convention and the European Rental Awards. Visit the IRE website for more information on the show. For information on how to arrive at the MECC centre, click here.