IRE lighting tower showcase from Himoinsa
By Helen Wright12 June 2014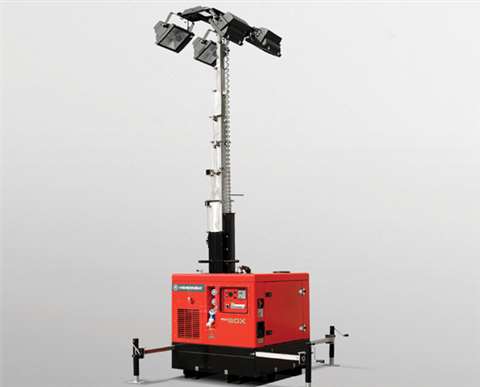 Manufacturer Himoinsa plans to showcase its expanded Apolo range of lighting towers at this month's International Rental Exhibition (IRE) in Amsterdam.
IRE takes place at the Amsterdam RAI venue on 24-26 June, 2014. It is the third time that the exhibition has taken place, and with almost 90 exhibitors registered, it looks set to be the biggest ever show.
Himoinsa has expanded its Apolo range of lighting towers to include new products such as the compact eco, compact heavy duty, box, mini kit and new LED lamp versions.
Products on show at IRE will include the new Apolo Box lighting tower, characterised mainly for its size and square shape – dimensions that are said to make it easier for customers to transport.
The company said up to 20 units could be stacked and transported in a 40ft (12.2m) container.
The Apolo Box tower has an autonomy of more than 100 hours and is offered to the market with four 1000W bulbs, but can also be supplied with six 240W LED bulbs. Its hydraulic telescopic mast can reach a height of 9m.
And the company's Compact Heavy Duty lighting tower boasts a reinforced chassis and trailer coupler.
It consists of a tower kit that can reach 9m tall and generator set, both incorporated into a compact and balanced mobile unit. Its six 240W LED light bulbs are said to extend the service life of its spotlights up to 50000 hours, as opposed to regular spotlights that usually offer up to 2000 hours.
Himoinsa's rental sector generator range boasts power outputs from 30 to 665kVA. At IRE, the company said it would present the 30 kVA HRYW 30, 85kVA-HRFW 85 and 150kVA-HRFW models.