Irish activity continues to rise
By Sandy Guthrie16 July 2018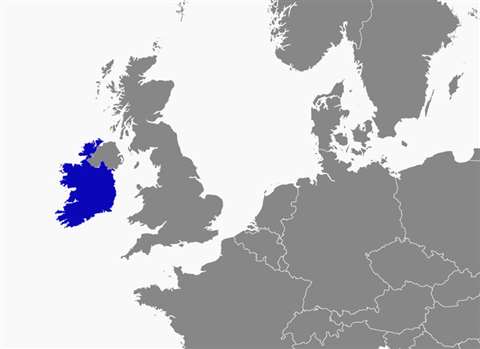 Another month of increasing new business in the Irish construction market has led to further sharp growth of construction activity at the end of the second quarter of the year.
Ulster Bank said that rising workloads had encouraged companies to step up hiring, while meanwhile, the rate of input cost inflation had eased to a nine-month low.
The Ulster Bank Construction Purchasing Managers' Index (PMI) – a seasonally-adjusted index designed to track changes in total construction activity – posted 58.4 in June, signalling another sharp monthly increase in construction activity in Ireland.
The bank said this was despite the index dipping from May's 61.8 to a three-month low, although it added that total activity had now risen in each of the past 58 months.
Simon Barry, chief economist for Republic of Ireland at Ulster Bank, said, "The headline PMI eased back from what was an extremely elevated reading in May to stand at 58.4 in June, but this is still very much a level which signals ongoing rapid gains in activity.
"The latest results, as well as anecdotes from survey respondents, continue to highlight that Housing and Commercial remain areas of particular strength within the sector, albeit that there was some cooling of growth momentum in June from the exceptionally rapid rates recorded in May."
He said that other elements of the survey had also painted a very positive picture, with the pace of job creation quickening further while new business also rose at a rapid rate that was not much slower than last month's one-year high.
"Furthermore," he added, "confidence among firms about year-ahead prospects for construction remains very elevated, with 56% of respondents expecting activity to rise."
Favourable outlook
The favourable outlook for construction was also said to have been a prominent theme in the figures from the CSO (Central Statistics Office) that were also released recently.
Barry said, "These showed that the rate of new business formation in construction more than doubled over the period 2010 to 2016, with over 4,600 construction start-ups accounting for almost a quarter of all start-ups across the Irish business sector in 2016 (the latest year available)."
He said that the start-up rate in construction was now the highest of the business economy's three main sectors, having been the lowest during the crisis.
"We estimate a 9.1% start-up rate in construction in 2016, significantly ahead of the equivalent rates in industry (7.7%) and in the broad services sector (7.3%) – a clear indication of expectations for recent construction sector outperformance to continue."
A number of the PMI's respondents linked higher activity to the improving economic conditions, with particular strength in the housing and commercial sectors. Ulster Bank said this anecdotal evidence was backed up by survey data, with rates of growth in both housing and commercial activity looking substantial at the end of the second quarter.
On the other hand, activity on civil engineering projects was found to have decreased for the second month running.
Some panellists reported that new housing projects supported growth of new orders in June. New business rose at a substantial pace, and one that was only slightly slower than May's 12-month high.
Rising demand also led to an expansion of purchasing activity, according to Ulster Bank, with input buying up sharply over the month. Higher demand for inputs contributed to longer suppliers' delivery times, it said. Shortages of some materials and transportation issues in Europe were also reportedly behind the latest deterioration in vendor performance, which was the most marked in three months.
Ulster Banks said that although input prices at construction companies continued to rise at a steep pace in June, the rate of inflation eased to the weakest since last September. Panellists reported increases in the cost of raw materials such as steel and timber, it said.
Confidence among construction firms regarding the 12-month outlook for activity dipped to a six-month low in June, but remained elevated, the bank said. Close to 56% of respondents predicted activity to rise over the coming year, reflecting expectations of improving economic conditions and new order growth, it added.