Isoli signs Asia partnerships
By Euan Youdale16 June 2017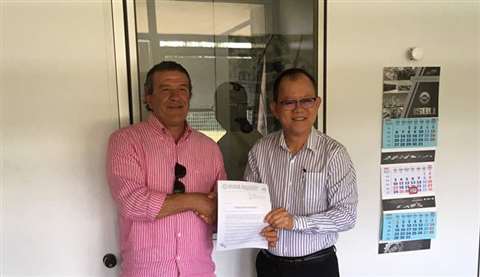 Italy-based Isoli has been signing agreements in Malaysia, India and China.
Multico, an importer based in Singapore, distributes for Tadano, Hiab and Bobcat across the Southeast Asia market and will be representing Isoli in Malaysia. The company's CEO Yeo Chin Seng visited Isoli I its home country of Italy to sign the agreement.
"This agreement is very important," said Giorgio Caberlotto, Isoli's export area manager, "It represents an important step for the organisation of the whole Isoli distribution network in ASIA. I'm also very happy that this Asian group selected Isoli products among other producers recognising the quality of its products.
The plan is to bring more than 40 units to the market in the next years, and a total of 100 units to Asia in 2018.
Isoli has also finalised an agreement Vanjax Sales in India, a truck chassis manufacturer with 30 years' experience. Isoli will use the Vanjax Indian facilities to mount its platforms on Indian truck chassis. This will allow it to be more competitive in areas like Africa sub Saharan, Bangladesh, Myanmar, Cambodia, Laos and Sri Lanka.
Enrico Cantoro, managing director of Isoli, said, "This represents an important step forward for Isoli to penetrate price-sensitive markets. This joint venture will bring us around 40 units in the first two years. In addition we will complete our range of products with the interesting range of Vanjax units which will be offered to our dealers".
Additionally Isoli has renewed its partnership with construction giant Liugong for the distribution of its aerial working platform in the China market.
"This is another important step for my company" said the chairman of Isoli, Giammarco Isoli, "in the development of the Asian market which is now a priority for Isoli".
Mr Isoli together with Mr Cantoro came back from China with a new order of 40 units for 2017 and is planning to reach at least 60 units in 2018.