Italian renovation for Potain cranes
By Niamh Marriott08 June 2023
Italian construction company Consorzio Stabile SIS has taken delivery of four Potain top-slewing cranes to aid in the renovation of one of Italy's oldest hospitals, Policlinico di Milano.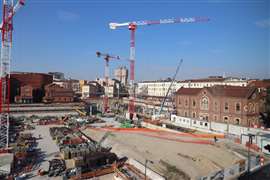 The project is set to last approximately three years and will require the use of the Potain cranes for the duration of the construction work.
Consorzio Stabile purchased two MDT 269 J12 cranes with a maximum jib length of 65 metres and two MDT 389 L16 cranes with maximum jib length of 75 metres, which have been mounted on site with jibs ranging from 55 to 60 metres in length and heights under hook of up to 69 metres. The cranes will lift heavy loads and manoeuvre equipment around the 23,000 metre-squared site.
Tricky city conditions
The project presents particular challenges, including its historic city centre location, a single narrow access road to the hospital that must not be blocked, and limited space for manoeuvring heavy vehicles, the mobile crane, and disassembly operations. To overcome these challenges, Manitowoc engineers, led by Matteo Pastore, had to and organized the placement of the cranes.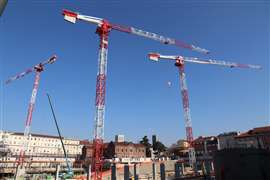 Consorzio Stabile's fleet also includes five Grove rough-terrain cranes and three Potain self-erecting cranes.