Jacqueline O'Donovan made Fellow of the CIWM
Jacqueline O'Donovan, managing director of London-based O'Donovan Waste Disposal, has been made a Fellow of the Chartered Institution of Wastes Management (CIWM).
She joins an elite group of 104 industry professionals who have achieved a Fellowship.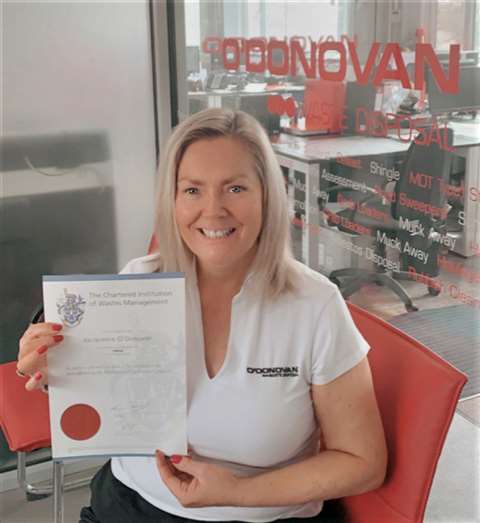 In more than 30 years with the family business, Jacqueline has grown the company to employ 185 members and has worked closely with Industry bodies and government in a bid to improve the reputation and raise standards across the sector, as well as investing in the business to maximise recycling and achieve zero waste to landfill.
"I'm delighted to have been appointed a Fellow of the CIWM. It is an honour to achieve this level of recognition within such an esteemed Institution and it stands as testament to the achievements of the whole O'Donovan team in working towards industry best practice."
Sarah Poulter, CIWM CEO, said: "CIWM Fellowship is awarded to leading professionals in resources and waste and is an acknowledgement of the hard work and commitment by an individual to the sector as a whole. CIWM Fellows are peer-assessed, so it truly is an accolade to have your achievements recognised by the very people who work within our sector."
The CIWM represents more than 5,500 individuals in the United Kingdom and overseas.