Japanese loan green lights India's US$19 billion bullet train
By Mike Hayes18 September 2017
India's Prime Minister Narendra Modi and his Japanese counterpart, Shinzo Abe, have attended the ground-breaking ceremony for India's first high-speed rail connection.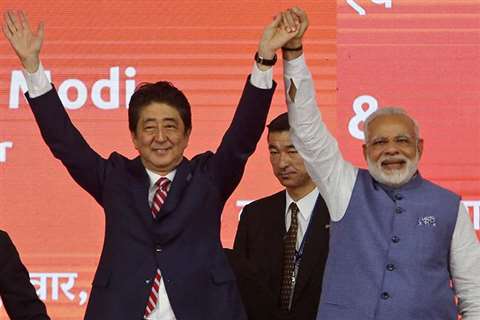 The two men laid the foundation stone for the project, which is set to break ground early next year.
The bullet train line will run along India's west coast, between Ahmedabad and Mumbai, some 530km to the south.
With a 750-seat capacity, the train is expected to make the journey in around two hours, reaching speeds of up to 350kmh.
The line, with a planned completion date in 2022, will include 12 stations and a 21km-long tunnel, with 7km running beneath the sea.
The construction project will be a joint venture between India Railways and Japan's Shinkansen Technology, with a soft loan from the Japanese government covering more than 80% of the predicted US$19 billion cost.
"A strong India is in Japan's interest and a strong Japan is in India's interest," Abe said after laying the foundation stone of the project at Sabarmati in Ahmedabad.
The two prime ministers also laid the foundation stone for an institute to be built in Vadodara, where around 4,000 people will be trained to work on the bullet train project.
The Indian government is currently said to be considering plans for six further high-speed rail networks, having already committed to a $137 billion spend over the next five years, to improve the track infrastructure on its current railway system