Japanese metal recycler boosts power with Sennebogen
When Iwamoto Metal Co's earthmoving excavator, which had been converted for material handling, needed to be replaced, it was clear that the new machine had to be more powerful and at the same time incur lower operating costs.
The new material handler is a Sennebogen 830 E with 4.5 m (14 ft 9 in) pylon and 132 kW electric drive.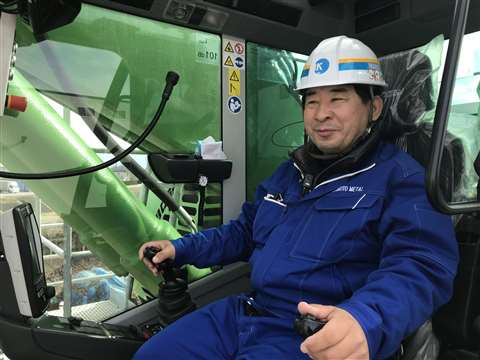 Iwamoto Metal Co is a big player in Japan in terms of metal recycling.
More than 90,000 t of scrap metal are processed per month at 11 scrap yards spread throughout the country.
The trend is on the rise, as the recycling expert is seeing an increasing influx of scrap particularly from the automotive industry.
The higher influx of scrap means that the machines are subjected to higher loads, have to process more material in the same time, and the space on site has to be used more effectively.
The new acquisition is to play a key role at the site, loading the metal scrap delivered by trucks and feeding the 7 m (23 ft) high shredder.
"Earthmoving excavators often reach their limits in recycling and scrap handling in terms of load capacity, engine power and cooling," said Takeshi Iwanami, product expert at Sennebogen's Japanese sales and service partner Sun Earth.
To contribute to environmental protection and reduce operating costs, the scrap recycler deliberately chose a material handler with 132 kW electric drive. The 4.5 m pylon elevation provides the best possible view of the scrap piles up to the 7 m high shredder.
Thanks to the liftable cab, operator Hisao Sugino can see over even the most remote corners with a maximum eye level of 10 m (32 ft). This is said to increase efficiency and, above all, reduces the risk of accidents.