JCB graduate wins award
By Joe Malone30 January 2017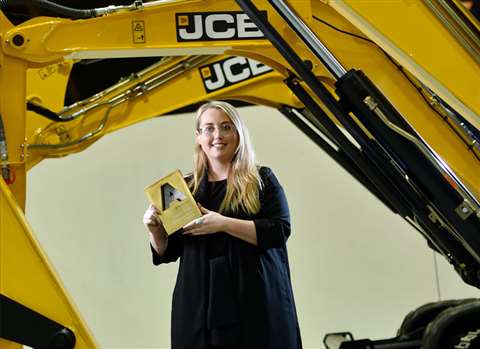 JCB design engineer Holly Broadhurst has been awarded the UK's top Higher and Degree Apprentice Award at the National Apprenticeships Awards in London, UK.
Ms Broadhurst, now 22, joined JCB as a higher apprentice aged 16 after studying at the JCB Academy in Rocester, Staffordshire. She went on to take a two year foundation degree before studying for two more years for a BEng degree in Mechanical Engineering.
Ms Broadhurst graduated last year and now works at JCB Compact Products in Cheadle, Staffordshire, where she is part of the team designing JCB's mini excavator range.
The 22-year-old was among the first intake at the JCB Academy in September 2010 – a £22 million (€25.8 million) state school designed for 14- to 18-year-old students aspiring to become engineers. The project was spearheaded by JCB chairman Lord Bamford, which has since seen almost 1,500 students educated there.
Ms Broadhurst said, "I've learnt and gained so much more than I ever thought possible through my apprenticeship at JCB. I look at my friends who went to university and they are only just getting the workplace experience now.
"I would advise anyone considering an apprenticeship to go for it 110% − it may seem nerve-racking to go straight into a job but it is so worth it in the long run."
Lord Bamford added, "I'm delighted that Holly has been recognised at a national level. Engineering was in my blood from a very early age and nothing pleases me more than seeing other engineers being rewarded at a very young age for their passion and hard work."