JCB skid steer at CDC Ltd
By Lindsay Gale11 June 2008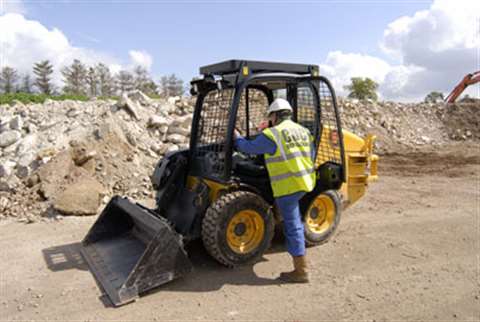 At the end of last year, UK contractor CDC Demolition invested in two JCB Series II Robot 160 machines modified for demolition in the factory, to add to the three Series I machines already in its 25-unit fleet
They are being used by the company for a wide range of applications, from clearing up at the bottom of the glory hole to sitting on higher floors breaking out and transporting material.
JCB's Series II machines feature improved control of the hydraulic functions, a revised cab interior with mini-excavator style controls, a transmission power management system to prevent stalling and an independent hydraulic flow control for high flow versions.
Other modifications include the door hinges have been moved from the front A pillar to the central B pillar on the cab to improve access for the operator – which, with JCB's single arm design, is already safe and easy. Visibility has also been improved through the removal of the front peak of the cab.
According to CDC's managing director, David Clarke: "The Series II machine is infinitely better from a visibility point of view."
The machines supplied to CDC were the forerunners to JCB's XD demolition spec discussed in more detail in this article, and feature most of the elements that JCB now includes in this spec, such as lifting points, rear bumper, wide core radiators etc.