Jensen replaces Torp at Time
By Euan Youdale19 January 2018
Kim Bach Jenson (left) and Per Cæsar Torp.
Kim Bach Jensen has succeeded Per Cæsar Torp as the new CEO of the entire Time International group, including its three subsidiaries in Denmark, UK and France. Jensen was vice president and CFO of the group prior to his new role
Time International is the global Versalift export division of US headquartered Time Manufacturing Company (TMC).
Torp remains on the management team in a new position as director of sales and strategic planning of the company, while newcomer Martin Lybæk Christiansen has been appointed as the new CFO, following extensive experience in a number of international companies.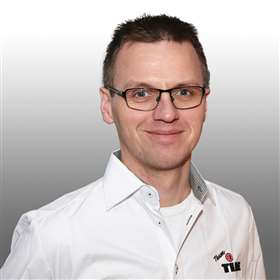 Torp led the Denmark-based company for more than 25 years, which started as a privately held company and in 1985 entered a strategic collaboration with US platform producer TMC. In 2001 Torp sold the company to TMC and since then, Time International has been the global export division of TMC, responsible for the sale of Versalift vehicle-mounted platforms in all markets outside of North and South America.
According to the company, the appointment of Jensen as CEO has been in the planning for some time, having been on the leadership team for more than 10 years. Since 2016, Jensen has also been the CEO of Danish subsidiary Time Danmark, as the first step in the planned succession.
Torp said, "Following a period of illness in 2017, I decided to ask for an acceleration of the planned succession and pass along the torch to Kim Bach Jensen a bit sooner than planned."
Torp says he will not be leaving the access industry or Time Versalift any time soon. Instead, he has transitioned into the newly formed position sales and strategic planning position.