JLG awarded two US Army contracts
By Lindsey Anderson17 April 2009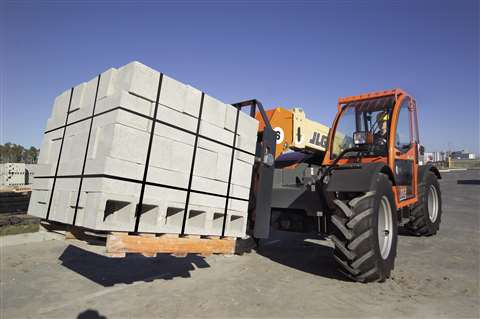 The US Army's Tank-automotive Armaments Command recently placed an order for 54 of JLG's G6-23A telehandlers. The order, from the Foreign Military Sales division, is valued at $3.6 million with delivery to begin in August 2009.
"JLG telehandlers have a myriad of applications and have proven to be exceptionally useful and reliable tools for military forces around the world," said Denny Buterbaugh, JLG vice president - government products and programs. "These telehandlers are destined for Iraq to support the Iraqi military in construction, rebuild and material handling applications as part of Operation Iraqi Freedom."
This order comes on the heals of a 2006 contract with the Tank-automotive Armaments Command for JLG telehandlers. The total value of the contract is at $26 million with 386 units having been shipped to Afghan and Iraqi governments.
The G6-23A's have all-wheel steering, a 100-hp side-mounted engine, on-board analyzers and a cab featuring a wrap-around dash. The units feature lifting capacities of 6,600 pounds and a maximum lift height of 23 feet.
The US Army also placed a $33.7 million order for 214 All Terrain Lifter Army System (ATLAS) II telehandlers with delivery expected to begin in September.
The ATLAS II has a maximum reach height of 28 feet and can lift up to 10,00 pounds at 17 feet. Featuring four-wheel drive, the units have 173-hp.
"This contract demonstrates JLG's ability to design and manufacture the next generation of military telehandlers capable of meeting the stringent durability, reliability and productivity requirements of the US Army," Buterbaugh said. "We are excited about the ATLAS II and its ability to build on the stellar reputation for material handling versatility, superior reach and the rough terrain performance of the original ATLAS machines."