JLG celebrates "Crews Across America" winner
By Leila Steed11 October 2019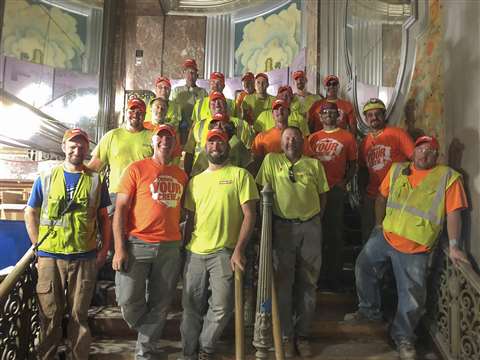 U.S. contractor C.D. Smith Construction has won JLG's Crews Across America competition.
The Crews Across America competition was created by JLG as part of its 50th anniversary celebrations. Companies can nominate themselves via a website for the chance to win a special lunch for their entire team onsite, branded merchandise and social media promotion all provided for by the equipment manufacturer.
JLG visited the team of Wisconsin-based C.D. Smith onsite at the Milwaukee Symphony Orchestra's Grand Theatre, which is undergoing a US$90 million renovation.
Joel Schrage, safety superintendent at C.D. Smith, said, "This is a great honor for the hard-working crew at C.D. Smith. JLG understands the importance of operator safety in the field and this recognition helps shine a spotlight on the workers behind its equipment."
JLG's visit included a tour of the theatre and surrounding construction site where several JLG boom lifts were in operation. The C.D. Smith crew then received a congratulatory luncheon, along with JLG giveaways.
Jennifer Stiansen, director of marketing at JLG, said, "Having the opportunity to tour this magnificent 'work in progress' at the symphony job site was both exciting and educational." She added, "Celebrating the Crews Across America winners on their turf gives us a first-hand look at the impact JLG equipment has in the field."
JLG, which is selecting one winner and one runner up each month for the whole year, said it wanted to show its appreciation to the hardworking crews across America that used its equipment.