JLG introduces new boom lift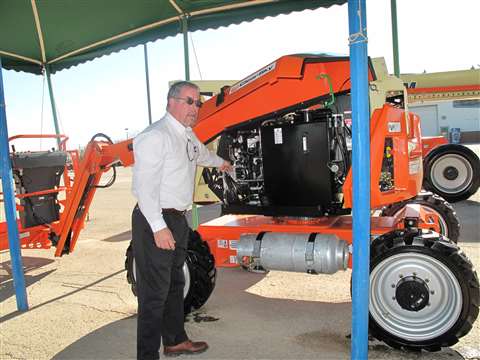 JLG Industries, Inc., has taken the wraps off a new boom lift model - the 340AJ - which the company will show at ConExpo March 22-26 in Las Vegas.
The 340AJ has a lift height of 34 feet with 20 feet of horizontal reach and a 17-foot up-and-over reach. The unit weighs 9,700 pounds.
"We are pleased to add the 340AJ to our existing line of boom lifts," said Chris Mellott, JLG Industries vice-president - sales and market development for the Americas. "As with all JLG's aerial work platforms, the 340AJ delivers industry-leading terrainability, enabling operators to reach their work and efficiently complete their jobs."
The 340AJ features a steel hood, 500-pound capacity and a Tier 4 diesel engine. A gas/liquid propoane engine is also available.
According to JLG's product champion Bill Dovey, the 340AJ fills a gap in JLG's product line and is ideal for the rental market.
Dovey said the unit's compact size makes it easy for transport - three can fit into a container - and four hoses and two cables in the boom make it "easy to work on," he said. The 340AJ has six tire configurations, four wheel drive, an oscilating axle and is ClearSky ready.
The unit will be ready for shipment in April 2011.