JLG previews X1000AJ
By Lindsey Anderson21 February 2018
The compact crawler boom has a working height of 105 feet and 54 feet of horizontal outreach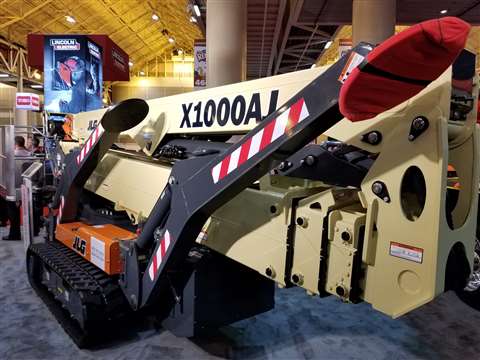 JLG used the 2018 Rental Show to preview its newest, and tallest, compact crawler boom - the X1000AJ. The unit will be available in Fall 2018.
The X1000AJ features 56 feet of up-and-over reach and 54 feet of horizontal outreach, plus 105 feet of working heightwork height. It also offers users a 500-pound unrestricted platform capacity.
"We are excited to bring the X1000AJ to market," said Randy Marzicola, director, channel development for JLG Industries, Inc. "Our innovative line of CCBs has rapidly expanded with this newest model addressing our customer's wants and needs. By offering a full range of CCB machines we reinforce our focus on developing equipment solutions that meet the requirements of our customers and their customers."
The X1000's boom includes a new articulated column design, giving operators the ability to work flush with the surface of a structure. Smart technology improves boom functionality by enabling multiple simultaneous movements, introducing a go-home function and by delivering 90 degrees +/- jib movement for added reach. The machine also features below-grade capabilities.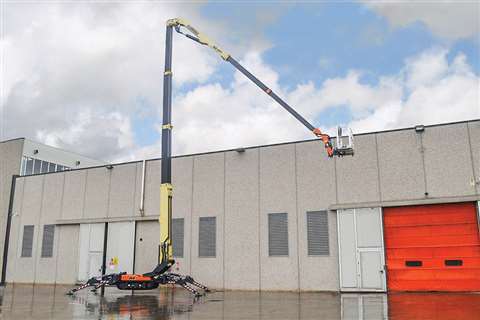 A compact footprint allows the X1000AJ to fit through a standard double doorway for movement between indoor and outdoor applications. Non-marking tracks, which retract, along with a patented platform disconnect system, make it easy to maneuver this machine through tight spaces, the company said. The X1000AJ is less than 22 feet-feet-long and under 20-feet-long when the platform is removed.
One-touch self-leveling outriggers stabilize and level the machine on slopes up to 16 degrees. The unit also has Teflon-coated outrigger pads, standard forklift pockets, SkyGuard and an interactive LCD display.
A 76-volt lithium-ion system or Kubota diesel power source are available options. The X1000AJ comes with fully synthetic biodegradable hydraulic fluid for use in environmentally sensitive areas.
For more on this unit and hte compact, crawler aerial market, see the April issue of ALH.