JLG Q3 sales down 60.9%
By Lindsey Anderson31 July 2020
JLG reported its third quarter sales were down 60.9% to $488 million compared to $1.25 billion during the same period last year. Aerial work platforms saw a decrease of 66% at $221 million compared to 2019's $664 million while telehandler sales experienced a 64% decline from $358.9 million last year to $127.5 million for Q3.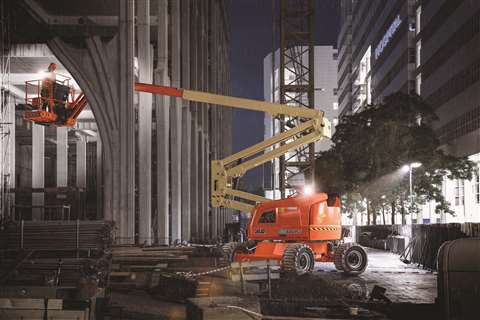 The company also reported temporary plant shutdowns in August and September, office staff reductions and plans to close its facility in Romania as a cost-saving measure.
The access equipment division of Oshkosh Corp. reported operating income in the third quarter of fiscal 2020 decreased 82.4% to $33.5 million, or 6.9% of sales, compared to $189.9 million, or 15.2% of sales, in the third quarter of fiscal 2019. JLG said the decrease in operating income was "primarily due to the impact of lower sales volume and adverse absorption as a result of lower production, offset in part by favorable price/cost dynamics, lower incentive compensation accruals, lower spending as a result of temporary cost reductions in response to the Covid-19 pandemic and lower intangible asset amortization."
JLG's backlog as of June 30th was $557 million compared to $854.8 million last June.
During the Oshkosh earnings call, company executives said the access division was impacted more than another other segment of Oshkosh business, and because of continued market uncertainty, Oshkosh will temporarily shut-down production for two weeks in August and September. Some JLG office staff have been laid off, as well.
"We're seeing uncertainty in the marketplace, primarily because utilization rates are not back to pre-pandemic levels yet," said John Pfeifer, president and CEO of Oshkosh Corp. "I think they're not back to pre-pandemic levels because of [Covid-19] reinfection rates that are going back up, especially in those key states that are really important to our business."
Pfeifer said the company is encouraged by the age of access fleets in North America, however, as companies will need to refresh fleets. "We expect [this] to be a positive demand driver in future quarters."
Ohskosh said "responsible fleet management" is occuring with rental, noting there isn't "a lot of irrational activitiy. So, the defleeting that has happened is a slight rational level of defleeting. There's no wide-scale defleeting going on. So, we think we are in a really good position that when the market stablizes, the entire market is going to perform very, very well. We just don't know when that's going to happen."
Wilson R. Jones, Oshkosh Corporation's CEO, said, "In the face of unprecedented challenges brought on by the Covid-19 pandemic, our businesses pulled together, executed with discipline and implemented temporary cost reductions that allowed us to deliver fiscal third quarter adjusted operating income of $128.8 million and adjusted earnings per share of $1.29 despite a decline in revenues of 34 percent.
"While we performed well in the current volatile environment, we must stay vigilant as we seek to navigate the challenging conditions in our markets. Early in the pandemic, we announced a series of temporary cost reduction actions to deal with the conditions we were facing. With the ongoing uncertainty in the economy, we have announced several permanent cost actions to further simplify our businesses and reduce costs. In our Access Equipment segment, we are closing our facility in Romania and moving that production to factories in Pennsylvania, Mexico and China…"
Oshkosh will also relocate its concrete mixer production from Dodge Center, Minnesota and consolidate production in other North American facilities to simplify whole goods manufacturing in the segment.
"Once fully implemented, we expect these actions to generate $30 million to $35 million of annual pre-tax savings, with some benefits in fiscal 2021 and the full impact in fiscal 2022. We expect pre-tax implementation costs of $35 million to $40 million, including approximately $20 million of non-cash charges.
"As a different integrated global industrial, we remain confident in the long-term strengths of the company, especially our strong People First culture. We are focused on winning in our markets as we continue to invest in new products, new technologies and lifecycle services to position the company for future success," said Jones.
Oshkosh reported nine month revenues of $5.1 billion, a decline of 18%.