JLG signs up Rumaillah in Qatar
By Euan Youdale03 July 2017
Rumaillah Motors WLL has become distributor for JLG in Qatar.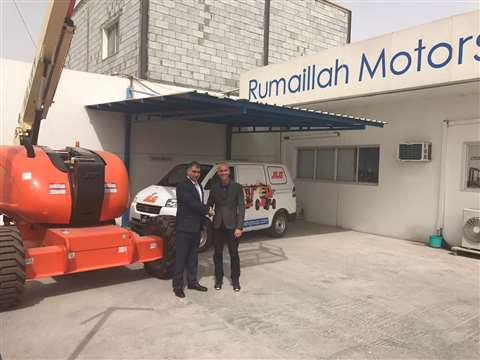 Part of the Rumaillah Group Holding, the company operates independently within Salwa Industrial Area.
Rumaillah Motors specialises in access, material handling and the hospitality sectors in Qatar. "With the changing landscape and modern architecture, vertical cleaning access points have been stretched to the limit, resulting in access equipment having a larger working envelope to reach areas that are literally inaccessible by top to bottom building systems," said a JLG spokesperson.
Accordingly, Rumaillah Motors has partnered with JLG for its entire aerial access range of products including telescopic handlers.
Rumaillah Motors general manager, Rauf Malik, said, "This partnership will further contribute towards safely working at heights within the state of Qatar. As this segment is evolving, our industry is exploring the benefits of such machinery in projects. We believe this segment would continue to develop, particularly as the buildings move above the ground."