JLG to supply Hinowa crawler units worldwide
By Lindsey Anderson27 October 2010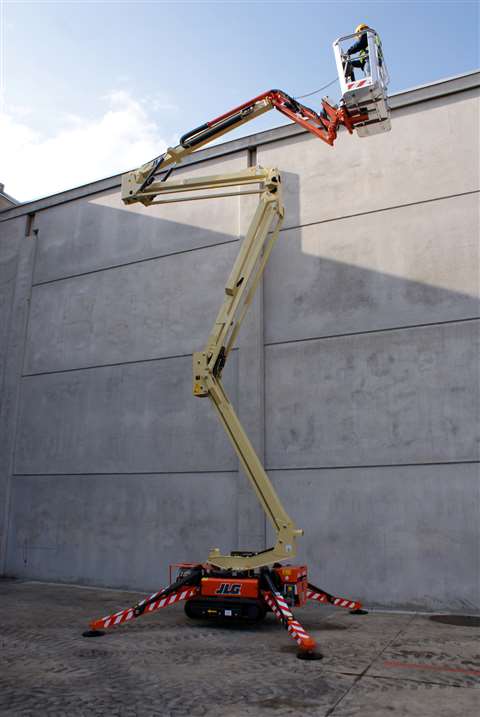 JLG Industries is to sell four of Hinowa's crawler mounted aerial platforms under an agreement signed by the two manufacturers.
JLG will offer four Italian-built Hinowa models under the JLG brand worldwide. In the European Union (EU) there will be parallel branding, with both Hinowa and JLG selling, with the exception of Austria, Germany, Netherlands and Belgium, where Hinowa will retain exclusive sales rights.
The agreement means that JLG will be selling exclusively in the US and other markets outside the European Union. Existing Hinowa aerial platform dealers, such as ReachMaster in North America, will no longer be selling Hinowa platforms.
JLG announced the deal at the SAIE show in Bologna, Italy on 27 October and showed a 19 m model on its stand.
The units will have a range of working heights from 45 feet (14m) to 75 feet (23m) and JLG said the units will be ready for delivery in early 2011.
"We are very excited to provide this rapidly growing product to our customers," said Tim Morris, JLG global vice president, sales, marketing and customer support. "JLG selected Hinowa to produce these specialty boom lifts for us based on their product quality, innovation and technical expertise.
"We believe that JLG will help expand the market outside of Europe for these products as well as provide JLG's European customers with a one-stop shop for all of their access product and aftermarket service needs."
Dante Fracca, Hinowa president, said, "We are proud to be selected by JLG as their supplier of JLG-branded specialty boom lifts. Hinowa remains committed to our distributor partners in Europe, which will continue to sell and service Hinowa-branded spider lifts.
"We further believe that JLG's global presence and brand will help grow this product's popularity in North and South America, Asia Pacific and other developing markets."
The JLG-branded specialty boom lifts will be produced to JLG's specifications by Hinowa and they will be available with gasoline, diesel or lithium-ion power.
Hinowa is based in Verona, Italy, and makes a range of crawler and truck mounted aerial platforms, mini-excavators and other compact equipment.