JMS fleet reaches 1000
By Euan Youdale20 January 2015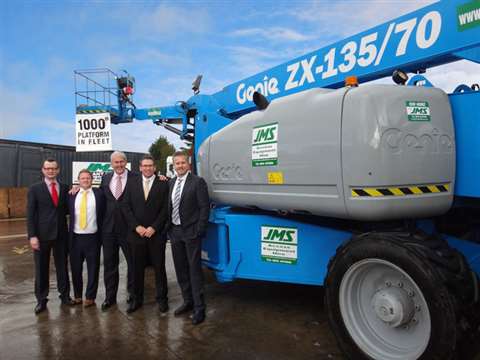 Powered access rental company JMS Access has taken delivery of its 1,000th machine.
The UK company, a division of JMS Plant Hire, reached its millennial milestone after receiving a Genie ZX-135/70 boom lift from Access Platform Sales (APS).
Mark Jackson, founder and director of JMS Plant Hire, said, "We are extremely proud to have reached one thousand machines. We're also pleased it was a boom from APS, as we have worked closely with them since our inception.
"JMS continues to go from strength to strength and we will continue to expand our fleet to meet growing customer demand. We anticipate hitting 1,200 machines later this year."
Founded in Hertfordshire in 2000, the company has grown into a national provider, with additional depots in Leeds and at Pinewood Studios. The Genie ZX-135/70 joins the company's impressive fleet of big booms including more than 40 machines providing working heights of 80ft or more.
The Genie ZX-135/70 is a diesel articulating rough terrain boom, offering a maximum working height of 141ft (43.1.5m) and horizontal reach of almost 70ft (21.26m). The telescopic jib extends from 12 to 20ft (3.66m to 6.10 m) and provides a 110˚ vertical range of motion for precise positioning.
Jim Daintith, a director of IAPS Group, which owns APS, officially handed over the Genie ZX-135/70 to JMS Access. "We are delighted to have supplied JMS with its one thousandth machine," said Mr Daintith. "JMS has achieved this milestone in an impressively short space of time and I believe that is because Mark and his team do business the right way.