John Deere adds backhoe breaker
By Lindsay Gale01 May 2008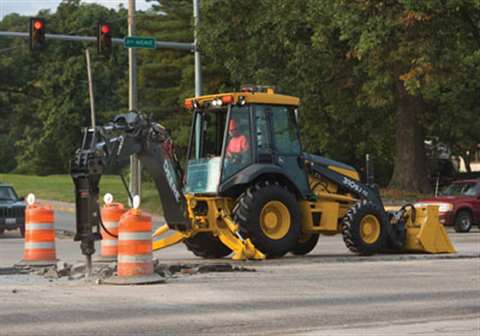 John Deere used the World of Concrete trade show to launch its first hydraulic hammer specifically designed for use on its range of backhoe loaders. The Worksite Pro HH100 delivers an impact energy of 1,627 J and is designed for use on the company's 310E, 310G, 310J, 310SE, 310SG, 310SJ, 410E, 410G and 310J backhoe loaders.
An important feature of the new breaker is its slim design, says the company. According to Doug Laufenberg, John Deere's marketing manager, attachments, "the hammer's slim shape allows entry into narrow places and give operators the ability to work closer to objects. And with its long stroke piston and low pressure, nitrogen charged design, the HH100 provides consistent power to get the job done with minimum recoil."
The HH100 has been designed with the minimum number of seals and only two moving parts – the piston and main valve – making it easy to service in the field. It also employs a 'gas assist' cycle to aid the hydraulics and provide greater firing power.