John Deere enhances ranges
By Lindsay Gale20 March 2008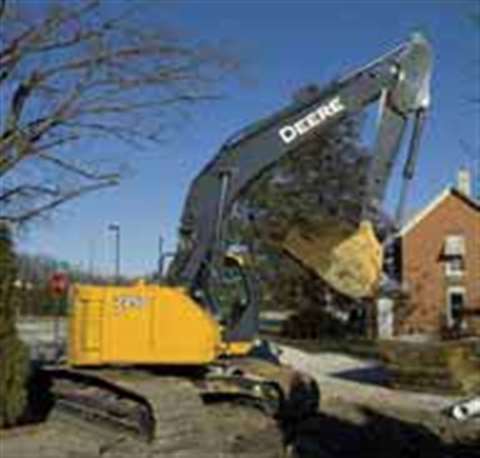 At the beginning of 2007, John Deere launched three D series excavators–the 160D LC, 200 DLC and 225D LC. While retaining many of the features to be found on their predecessors, the new machine also feature significant improvements, including faster hydraulics, a redesigned cab, undercarriage enhancements and a new cooling system. These improvements, says the company, deliver positive benefits in terms on improved productivity and uptime, as well as lower operating costs.
The 160D and 200D both use John Deere PowerTech Tier III compliant diesels that deliver 121 hp (90.3 kW) and 164 hp (122.3 kW) respectively, while the larger 225D uses an Isuzu 164 hp power plant. Operating weights of the three machines are 18,173 kg (39,980 lb), 22,700 kg (49,940 lb) and 24,516 kg (45,636 lb) and bucket forces are 22,697 lb, 29,099 lb and 29,099 lb respectively.
Service intervals have been extended to 5,000 hours on the hydraulic system and easy access oil and fuel filters are located in the pump compartment, allowing for easy changes.
A new compact excavator model has also been launched in the shape of the 17D, fitted with adjustable tracks that allow it to pass through a 1 m (3.3 ft) opening, but which when extended to over 1.27 m (4.17 ft) provide the machine with enhanced stability.
The 17D weighs in at 1,893 kg (4,173 lb), has a maximum digging depth of 2.2 m (7.1 ft), a maximum digging reach of 3.9 m (12.8 ft). Performance has been up rated to supply 20 % more horsepower at 14.8 hp (11 kW), 8 % greater arm force and 19% greater bucket dig force and greater service intervals–2,000 hours for hydraulic oil and 250 hours for engine oil and grease intervals, as well as better fuel economy. In addition to greater digging forces, the 17D has faster operating speeds, greater weight and 10 % more hydraulic flow.
Where wheeled loaders are concerned, John Deere has upgraded four of its models, the 444J, 544J, 624J and 644J to include Tier III compliant PowerTech engines, as well as fitting new Teammate IV front and rear axles on the 544J, 624J, 644J and 724J. The 644J also now features the company's Quad–Cool system already available on the 444J, 544J and 624J. This system is easy to clean as well as being resistant to plugging.
Four new backhoes have also been added to the company's range–the 310J, 310SJ, 410J and 710J–that provide all–new powertrain components and numerous structural and electrical enhancements. The 310SJ and 410J also offer a Total Machine Control option. The new J–Series machines weigh in at 7,336 kg (16,140 lb), 7,709 kg (16,960 lb), 8,410 kg (18,500 lb) and 11,590 (25,500 lb) respectively.
Powertrain upgrades include ZF transmissions, front and rear axles. All models a powershift transmission as standard and the TMC equipped machines offer improved road speed and gradient climbing ability.
A multi–language digital monitor provides on–board diagnostics and solid–state electronic minimises relays and help improve electrical reliability.
The J–Series machines feature a new single radiator cooling package with low temperature oil–to–water coolers for the transmission and hydraulic oil circuits to help warm oil faster and reduce cleaning time due to fewer conventionally stacked radiators. A lower fan speed helps save fuel and minimise fan noise.