JTC orders six Demag ATs
By Christian Shelton03 April 2018
One of the Middle East's largest equipment rental, port management and contract logistics companies, Kuwait-based Jassim Transport & Stevedoring Co. K.S.C.C. (JTC), is looking to extend its fleet after placing an order for six new Demag all terrain cranes from manufacturer Terex Cranes. The order comprises one AC 100-4 model, three AC 130-5 models, and two AC 160-5 models.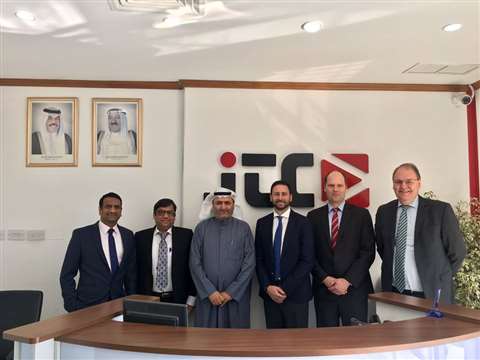 From left to right: Subbarao I V (group finance manager, JTC) – Deepak Jain (senior sales manager, Terex Cranes) – Adel Kohari (CEO, JTC) – Steve Filipov (president, Terex Cranes) – Carsten von der Geest (vice president commercial operations, Terex Cranes) – Thomas Schramm (vice president sales mobile cranes, Terex Cranes)
"Our business continues to expand across Kuwait and Qatar," said JTC CEO, Adel Kohari. "And, given the success we've experienced with the Demag cranes we recently purchased, we decided to add several more mobile cranes. We believe this strategy will make our crews more productive because all of the various models share common features and operate in similar ways. The whole Demag all terrain crane line is well designed and built from small to large."
These new units, along with the six other Demag all terrain cranes that JTC purchased over the last two years, expand the company's Terex and Demag crane fleet to more than 50 units, Terex said.