K25 module to Capelle in France
By Laura Hatton08 October 2014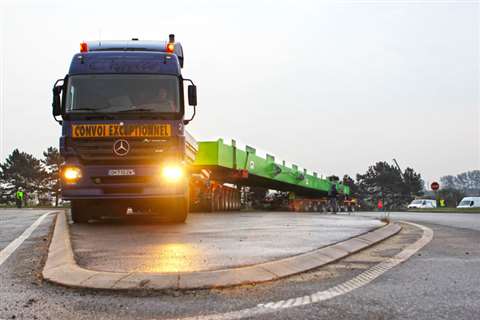 French heavy load transporter manufacturer Nicolas, part of the Tii Group, has delivered a K25 modular platform trailer to heavy transport provider Capelle in Ales, France.
The K25 series offers modules featuring a 2- up to 8-axle bogie unit with an axle load of 45 tonnes. The trailer is compatible with vehicles from other manufacturers, the manufacturer said.
Jean-Daniel Capelle, Capelle Groupe managing director, said, "We wanted to diversify our vehicle fleet and enhance our transportation options. Technically, the K25, built together with Nicolas and its affiliates Scheuerle and Kamag, is an innovative top-product and provides us, in combination with the K25 PowerBooster and the K25 Split, a range of new flexible transport operations. We at Capelle appreciate, in particular, the technically convincing performance along with the easy and safe handling as well as high product quality."
Sébastien Porteu, Nicolas Industrie managing director, said, "We are delighted with the confidence placed once again in Nicolas and the expansion of the existing Nicolas fleet through other products from the TII Group. We would like to wish our long-standing customer, Capelle, continued success in its transport operations."
The first job for the new trailer was the transport of 140 tonne steel girders from the port of Dunkerque.