Kaeser to show e-power compressors
Germany-based compressor specialist Kaeser will use IRE to showcase emission-free and low-emission Mobilair portable compressors, as well as new options available for telematic integration.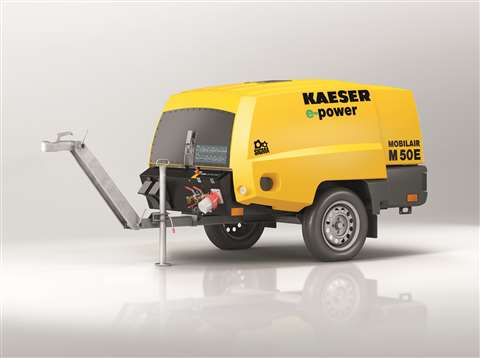 Kaeser said models from its e-power series are increasingly being used on sites where there is a 400V power supply available. Advantages include quiet, emission-free operation and the use of low-maintenance electric drives.
Where there is no available power, its low-emission Mobilair models M20 to M500-2 are suitable, using EU Stage V diesel engines.
The M50E PE, among others, will be on show. This compressor has a 25kW Siemens e-power drive and delivers 5 m³/min of compressed air at 7 bar.
Also displayed will be the M59PE, which features a Hatz diesel engine and variable pressure adjustment up to 14 bar. The towable version will be of particular interest to rental companies.