Kanamoto and Hitachi sign China agreement
Hitachi Construction Machinery (Shanghai) (HCS) and Japanese rental company Kanamoto have signed a strategic cooperation agreement for China.
Under the agreement, signed at Hitachi's Hefei factory in China on 9 July, Hitachi will initially supply 21 of its 47 tonne ZX490LCH-5A excavators to Kanamoto's Chinese rental subsidiary, Kanamoto (China) Investment Co Ltd.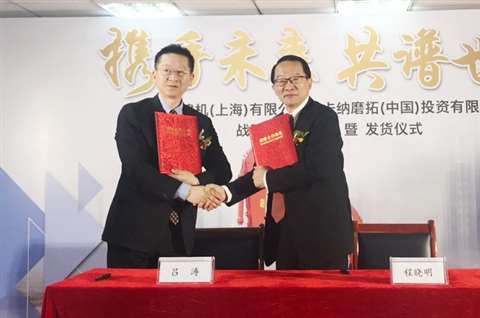 President of Kanamoto, Tetsuo Kanamoto said the two companies had a long history of partnership and that the agreement in China would create a new cooperation model between a manufacture and rental company.
The strategic partnership follows Kanamoto's initiative last year to provide large machines for China's mining industry on a four-year rental deal, involving Caterpillar and SDLG equipment.
Mr Kanamoto said, "Kanamoto is a pioneer and leader in China's general rental market. The original unique rental model in the mining sector [has helped develop] China's rental industry. The strategic alliance with HCS will [exploit our shared aims] to build on our achievements."
HCS Managing director Tei Gyomei said, "Working with Kanamoto allows HCS to strengthen its rental business and diversify our channels. We will try to meet Chinese clients' various demands by various approaches, including dealer rental, partnership rental, and wholesale rental, and work with partners to boost the business."
Present at the signing was Zhang Hao, President of contractor Shenzhen Zewenxi, which will take delivery of the 21 rental units. He said they chose Kanamoto for its rental concept, professional management and depth of experience, and Hitachi for the quality of its equipment and services.
"The strategic alliance between HCS and Kanamoto will not only ease our concerns but also improved productivity considerably", said Mr Zhang, "We will deepen and expand our cooperation with Kanamoto and HCS in the future."
Hitachi's Tei Gyomei will give a speech at the International Rental Conference (IRC) in Shanghai on 22 October. See www.khl-irc.com for more details.