Kavanagh buys Liebherr trio
By Ian Vallely07 November 2017
Kavanagh's Liebherr LTM 1500-8.1 assisting with the launch of a 115 tonne fishing vessel, Diligent Jo, at Arklow Harbour, County Wicklow in Ireland
Kavanagh Crane Hire in Ireland has taken delivery of three new Liebherr mobile cranes in the last six months. The wheeled mobile telescopic cranes are LTM 1090-4.1, LTM 1500-8.1 and LTM 1130-5.1.
The 90 tonne capacity LTM 1090-4.1 has a 50 metre telescopic boomon and is on a four-axle carrier. It also has a fly jib, VarioBase and speed-dependent rear-axle steering to maximise manoeuvrability.
The 500 tonne LTM 1500-8.1 joins the heavy crane division alongside an LTM 1300-6.2, which the company took delivery of in 2016. The new 500 has been specified with the 91 metre luffing lattice jib type TN, the Y-type guying system, a spacer to increase lifting capacity on the luffing lattice jib in conjunction with the guying system, and an eccentric to increase lifting capacity on the fixed lattice jib in conjunction with the guying system.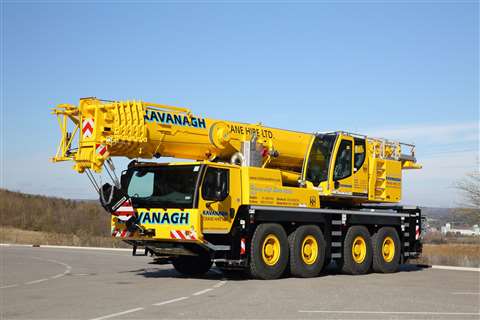 The 130 tonne capacity LTM 1130-5.1 has a standard specification, including 60 m telescopic boom, 19 m folding fly jib and VarioBase.
Paul Kavanagh at Kavanagh Crane Hire said, "We are delighted to add these new Liebherr cranes to the Kavanagh Crane Hire fleet. The addition of the LTM 1500-8.1 increases our capacity to 500 tonnes and we have already tried and tested the LTM 1090-4.1 and LTM 1130-5.1. Both these models have proved themselves over the last few years with their great reliability."
Established in 1973, Kavanagh Crane Hire operates a fleet of more than 55 cranes, the largest crane rental fleet in Ireland from four depots in Dublin, Wexford, Carlow and Waterford.