Keestrack enters Japanese market
"The Japanese mineral recycling industry is one of the most advanced sectors worldwide attaining recycling rates of over 90% in almost all typical construction waste categories", says Michael Brookshaw, global distributor manager of the Belgium-based Keestrack Group as the company enters the Japanese market after signing a dealership agreement in the country.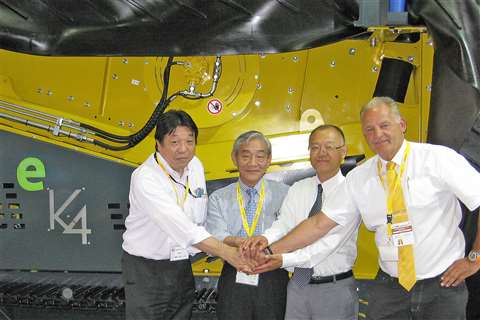 The agreement, signed in March, brought the mobile processing technology specialist together with Kanagawa-based JCE, which will distribute the full range of tracked mobile crushers and screens as well as providing customer service and aftersales.
Founded in 1984, JCE has 33 staff, a turnover of around US$9 million and a product portfolio covering Japanese brands and leading international manufacturers. As exclusive distributor, JCE substantially invests in aftersales structures including wear and spare parts, nationwide support and comprehensive rental fleet.
"Technical and environmental standards are very high, resulting in a very competitive market situation for both local and global manufacturers," adds Michael Brookshaw.
"Keestrack is now entering the Japanese market with its full range of mobile processing technologies – world leading in terms of modern hybrid drive concepts – and with our new distributor JCE, offering professional and nationwide service and support for all relevant sectors."
JCE general manager Yuji Yoshisako said: "Introducing Keestrack into the Japanese market, we're definitely boosting our recycling portfolio for customers requiring highly productive mobile plants over 150 t/hr.
"Japanese customers are very quality-conscious and have a great appreciation for state-of-the-art technologies. With Keestrack we meet both demands and throughout all product families, which makes us now to the one-stop-shop for smaller, medium-sized and even large recycling contractors."