Kennard opens seventh IRC conference
By Thomas Allen22 October 2019
This year's International Rental Conference (IRC) – the seventh since its launch in 2013 – has opened at the Jumeirah Himalayas Hotel in Shanghai, China, with more than 450 delegates hearing keynote speaker Angus Kennard, CEO of Kennards Hire, offer insights into the management of a family-owned company.
Kennard explained the strong culture at Kennards Hire, why it was created and how it is sustained - and, indeed, how it has helped the business to double its revenue every five years since its inception 71 years ago, now reaching close to A$450 million.
"Real values build trust with customers," said Kennard, "And those values must be embodied and demonstrated by role models in the company."
Kennards' four basic values are: 'fair dinkum', which means to be honest - "If we say we'll do something, we'll do it," said Kennards; 'ensuring every customer is a raving fan' - "We want to help solve every customer's problem," said Kennards; 'one family', which reflects the importance of working together; and 'taking hire higher', which is about constantly looking for ways to improve - in a word, innovation.
Of course, one challenge of having a family-run business is the potential for personality clashes between family members. For this reason, Kennard said, "We have two separate boards: a family board and a business board." In addition, there is a rule that family members do not report to other family members within the company.
Another challenge for Kennards is that its depots are spread out over a large area. Kennard said, "Due to the fact that we have a disparate workforce, we push autonomy down to our branches so that local managers have the authonomy to make local decisions, effectively managing their own business."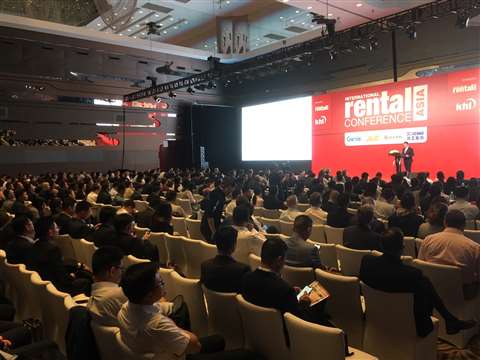 Kennard's presentation was the first of a day-long conference dedicated to the equipment rental industry in China and wider Asia, with speakers from JLG, Hitachi Construction Machinery (Shanghai), Industrial Access (TVH Group), Skyjack, AP Rentals and Manitou Group.
The afternoon keynote will be given by Yoonkee Eom, CEO of Korea Rental Corp.
Full reports on the conference will be published on the International Rental News website and at www.khl.com.
The conference has been organised by KHL Group, and it is taking place the day before the APEX Asia exhibition, which is being held at the Shanghai New International Expo Centre (SNIEC), opposite the Jumeirah Himalayas Hotel.