Kerr keen to impress at Scot Industrial
By Joe Malone21 September 2017
Scot Industrial Air (SIA), a Scot JCB Group company, has appointed David Kerr as its generator sales manager, following a longstanding career in the equipment rental sector.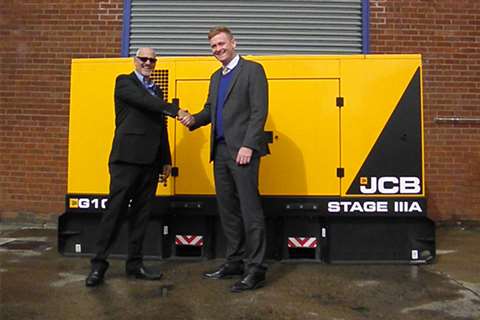 David Kerr (left), generator sales manager, Scot Industrial Air, alongside Robin Bryant (right), Scot JCB parts & service director
Kerr will be based at the Scot Industrial Air headquarters in Glasgow, UK, and will operate throughout Scotland and the north of England. His key motive will be to promote JCB's generator product line-up to a range of industry sectors.
Kerr has worked in the equipment rental industry for 17 years.
Commenting on his appointment, David Kerr said, "Joining Scot Industrial Air was an easy decision to make.
"With the new generator products and extensive support and knowledge I feel confident Scot Industrial Air can expand seamlessly throughout this market. I look forward to making this journey with them."
Scot JCB has supplied and serviced JCB machinery for over 50 years, and has grown into a highly-specialised machinery distribution company, which operates through a network of 12 branches.