Kiloutou renews association partnership
By Murray Pollok19 September 2018
Kiloutou has renewed its partnership agreement with CAPEB, the French trade association for small builders and trades people.
Under the agreement, Kiloutou will provide tools and equipment specially adapted for trades as well as products and services designed to address health and safety risks on sites.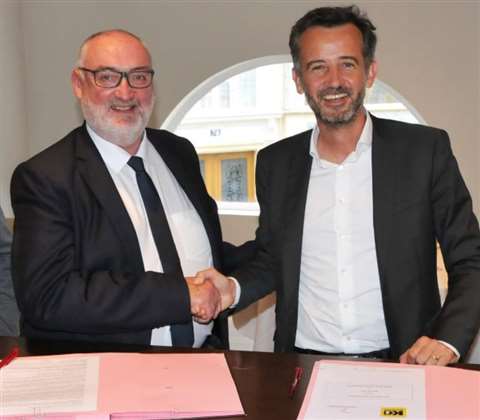 Patrick Liébus, President of CAPEB (left), with Olivier Colleau, Chief Executive of Kiloutou.
CAPEB represents the interests of small building companies and tradespeople, typically with less than 20 employees. There are more than 420,000 such businesses in France, employing around 630,000 people.
The two organisations have identified some key products that can help small companies address health and safety concerns. These include sanders with a metal support to reduce arm effort and vibration, a low-vibration hammer, and a water recycling system for use when drilling in walls or the ground.
In addition, Kiloutou has created special offers for individual trades, including carpenters and roofers, electricians, tilers, plumbers and landscapers. Kiloutou will also offer CASES training and a mobile Kiloutou App for CAPEB members.
Patrick Liébus, President of CAPEB, said; "The collaboration we have developed with Kiloutou is for the benefit of building trades and to reduce risks. Kiloutou has a professional relationship with our businesses, through adapting equipment for them and providing special offers."
Olivier Colleau, Chief Executive of Kiloutou, said; "This new partnership with CAPEB illustrates our commitment to trades people and demonstrates the passion that drives us to offer equipment adapted to all building trades.
"Our motto - Let's talk Pro! - is not just words. It is reflected daily in the dialogue between our team members with the thousands of craftsmen they meet every year, and the services offered in the context of safety, good practices and the development of their business."