Kinglift debuts self-leveling, tracked scissor
By Lindsey Anderson23 October 2019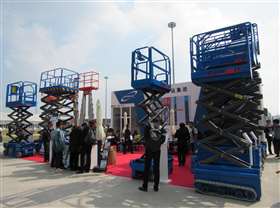 Exhibiting at APEX Asia for the first time, Chinese OEM Kinglift took the wraps off its new self-leveling, track-based scissor lift line. The company has three models in the new crawler family – the QYLZ06, QYLZ08 and QYLZ10 with platform heights of 8m, 10m and 12m, respectively.
Kinglift has been manufacturing access products for five years and is currently looking to undergo CE and ANSI standard certification for its machines so it can enter the North American market, it told ALH and AI during APEX Asia. Its goal is to debut products in the U.S. within the next year.
Kinglift offers a range of access products, from self-propelled scissor lifts and articulating booms to crawler booms and stationary scissor lift platforms. It told ALH and AI it produces ¥2.3 billion in products a year.
APEX Asia runs Oct. 23-26 in Shanghai. For more on the show, see the upcoming issues of ALH and AI.