Kleeman breaks ground on new factory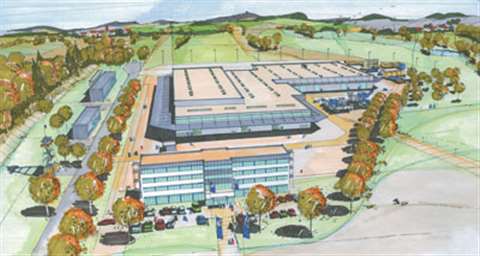 German crushing equipment manufacturer Kleeman, part of the Wirtgen group, has broken ground on a new headquarters and manufacturing facility in Goppingen, Germany.
The new headquarters, located on a 125,000 square meter (1.4 million square foot) plot, will consist of a 35,000 square meter (378,000 square foot) production facility and a 4,000 square meter (43,000 square foot) administrative building.
The company says that it has seen double-digit growth over the last few years and that it expects its turnover to continue to grow in the short to medium term. The new facility is therefore seen as being a necessary and logical step to allow the company to further enhance its competitiveness.
Currently, the company is manufacturing its mobile crushing and screening equipment using three separate locations and two addition storage sites. These will be merged in the new production facility once it is complete – this concentration of the entire manufacturing process on a single site, from prefabrication through to final assembly, is expected to provide an optimised production process.